Masters' Strongman at the Central USA Fitness Festival
Chad Coy gave IronMind a quick rundown on the masters' strongman competition at his Central USA Fitness Festival this past weekend.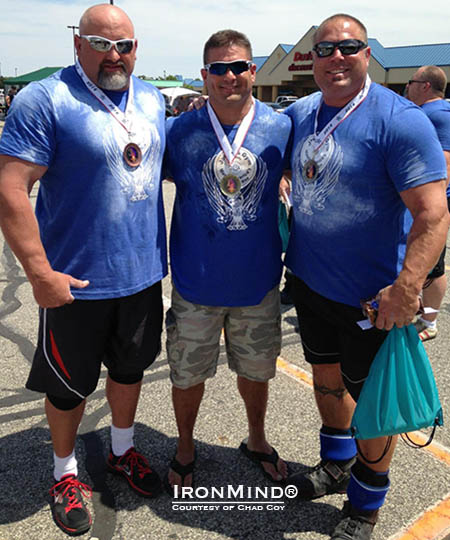 Masters' strongman medalists from the Central USA Fitness Festival (left to right): Rob Lewis, Chad Coy and Van Hatfield. IronMind® | Photo courtesy of Chad Coy


"The Masters' was held with 4 other contests at the Central USA Fitness Festival.
We had 152 athletes compete over the two day show," reported Coy. The Masters' was spread over Friday and Saturday, 4 events each day.

"Farmer's Walk with 308 for 120-ft kicked it off. Log Incline was second with 300 for max reps. Shield Carry and a medley came next.

"The second day consisted of DB press, Hercules Hold, Power Stairs and a Loading Medley.

"The defending champion and 2 time runner up at Masters' Worlds, Chad Coy was first. Van Hatfield, the 2004 ASM winner was 2nd, and Rob Lewis last years NAS Masters' National Champion rounded out the podium.

"Also as part of the festival were the Central USA Powerlifting championship, the Central USA MAS wrestling championship, the Central USA Iron Games and the 17th Central USA Strongman Challenge. The festival was a fund raiser was for Breast Cancer research!

"The IronMind goodies that you sent were given to various winners and it was thoroughly enjoyed by all that got them!"

###



Want to talk strength? Join the IronMind Forum.

You can also follow IronMind on Twitter and on Facebook.