Masters Highland Games Worlds: Captains of Crush Certification and Rolling Thunder Contest
William (Bill) Scruggs, Ph.D., Executive Director of Scottish Masters Athletics International, which manages the Masters World Championships, has arranged to give Scottish Games Masters a crack at certifying on the No. 3 Captains of Crush® Gripper at their upcoming Worlds.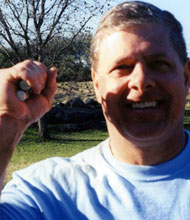 Thwarted no more by the No. 2 Captains of Crush® Gripper, Bill Scruggs succeeds in front of Frank Lux, Bill Butler and Kit Soneson (Loomis, California). IronMind® | Photo courtesy of William Scruggs, Ph.D.
Scruggs, who is no slouch in the grip department, was bitten by the gripper bug in 1999 when he was stumped by a No. 2 Captains of Crush® Gripper, but he responded to the challenge by not only building the strength to bang out 20 consecutive reps on this well-known standard of grip strength, but he has also shared his zeal by honoring all Scottish Masters who succeed in closing the No. 2 Captains of Crush® Gripper.

Taking things a step further, Scruggs and another Masters Highland Games notable, Kent Durso, will be available as official witnesses for any competitors at the upcoming World Championships who are ready to take a crack at certifying on the No. 3 Captains of Crush® Gripper. Anyone interested in taking an official shot at this benchmark gripper should review the Captains of Crush® Grippers Rules for Closing and Certification and per the procedures, contact IronMind®.

"Also included in this year's festivities in Inverness," Scruggs said, "will be a Rolling Thunder challenge for the masters. This is the first such masters' challenge at a Highland Games." Scruggs, who was successful at 175 pounds while fooling around with some other throwers back in 2000, said he has "garnered the help of Scot Malky Cleghorn to put the 'Thunder' into this year's mix. Most likely, it will become a regular at future world championships. Because the Rolling Thunder utilizes many of the same muscles as those used in the Highland Games events, this challenge will be held on Friday night before the Games begin."

The 2006 Masters World Championships of Scottish Heavy Athletics are being held in Inverness, Scotland on July 22 and if you need an excuse to go to Scotland this summer, here's a great one. Incidentally, as an indication of the popularity of the Highland Games among masters, and Bill's success in organizing everything masters in Scottish Heavy Athletics, "over 75 athletes age 40 and above from seven countries" will be competing this year, so stop by the Scottish Masters website and maybe get into this yourself.