Masters Highland Games World Championships
"The sites for the next three Masters World Championships of highland athletics have been selected and announced," MILO® author and top masters competitor Bill Scruggs reported, and just so you know how serious Bill is about this, he added, "Please get this in print."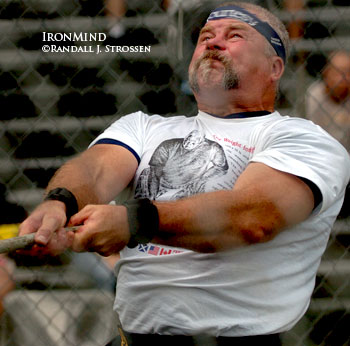 Canada's Harvey Barkauskas was a top Highland Games competitor when he was a mere youth and now that he's had a chance to season a bit, don't think he's any less serious. IronMind® | Randall J. Strossen, Ph.D. photo.
Here are the dates, so start training and be a part of these competitions:

2008: Saline Celtic Festival, Saline, Michigan, USA July 12, 2008
2009: Inverness Highland Games, Inverness, Scotland July 18-19, 2009
2010: Sarnia Highland Games, Sarnia, Ontario, Canada June 12, 2010

Hats off to Dr. Scruggs for all his good work supporting Highland Games for masters - we at IronMind® appreciate his efforts and we know that a lot of other people do, too.