Victor Kalibabchuk won the first stage of the Mas Wrestling World Cup in Moscow this weekend.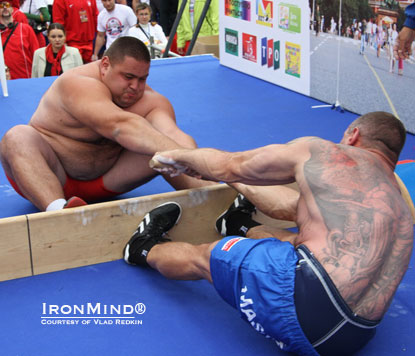 Oleksandr Lashyn (Ukraine) shown mas wrestling. IronMind® | Photo courtesy of WSF.


An ancient sport from Yakutia, mas wrestling "demands great muscular strength from the hands, legs, back and abdominals" according to a description WSF World Cup Strongman director Vlad Redkin sent IronMind. "Participants taking part in mas-wrestling competitions sit in front of each other, prop their feet against the board that divides the competition area and tug on a wooden stick, making sure to keep it parallel to the propping board. Victory is declared when a contestant manages to pull his opponent over the board and keep the stick in his hands."

Here are the official results:

1. Victor Kalibabchuk (Russia)
2. Evgeny Sivcev (Russia)
3. Yury Vasilev (Russia)
4. Anatoly Shmirev (Russia)
5. Anatoly Bajushev (Russia)
6. Fedor Fedorov (Russia)
7. Sergey Andejchenko (Russia)
8. Oleksandr Lashyn (Ukraine)
9. Rolands Gulbis (Latvia)
10. Gunnar Gimbutis (Estonia)
11. Alexej Usov (Russia)
12. Radion Sucman (Moldova)

Redkin calls mas wrestling, "New kind [of event] for strongman" and he plans more competitions.

"Next step: second stage of World Cup Mas Wrestling–absolute world championships will be in Yakut, Russia on 6 of July in Yakut–Russia. Total prizes will be US$20,000.
"November–Russia. Final–UAE," Rekin said.
"New kind, new faces, new places!"

###

The IronMind Forum: discuss this article, talk strength, get help with your training.

You can also follow IronMind on Twitter.