Mas Wrestling USA Heads to World Championships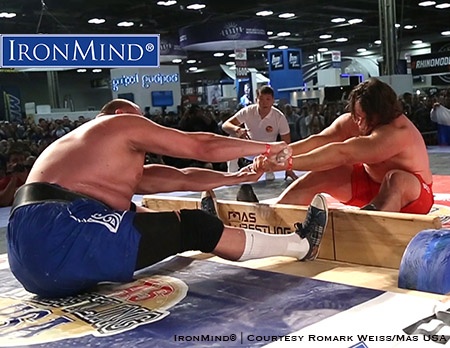 Team USA heads to the Mas Wrestling World Championships in Cholpon Ata, Kyrgyzstan, September 3–4.

Odd E. Haugen, President and CEO of Mas Wrestling USA, and the team leader, told IronMind, "We have a full team, 12 athletes, including Martins Lincis, the reigning Absolute World Champion."

This is the second Mas Wrestling World Championships that's truly international, Haugen explained, as the prior competitions only involved competitors from the Eastern Hemisphere and primarily focussed on athletes from the former Soviet Republics.

Along with Martins Lincis, who will be competing the +125 kg class, Haugen is looking for big things from Jacob Finerty, who will be competing the -125 kg class.

Haugen, 66 years old, is scheduled for hip replacement surgery in a few weeks, but he said that if he can walk up the steps, he plans to compete since one of Team USA's athletes had to pull out, leaving a vacancy on the roster.

Haugen said that around 30 countries and hundreds of athletes will be competing and that while Team USA won five medals at the last worlds, none was gold and he hopes that changes this year.

Explaining its requirements, Haugen said mas wrestling is a, "Full-body test of functional strength, one of the absolute best tests of functional strength: brute power, flexibility, intestinal fortitude, mobility.

"The focus is on the posterior chain, along with legs, arms, grip, of course, and you are only as strong and your weakest link," said Haugen.  The sport has been likened to "close quarters tug of war," and Haugen likes that description.

"It's a fun way to train, good strength training, and a nice change from lifting weights . . . it's perfect for wrestlers, other grapplers and MMA competitors," Haugen said.

In addition to its purely physical components, mas wrestling has elements of a combat sport with its head-to-head competition, but since you don't trade punches or try to disable your opponent, that broadens its appeal.

For more information on the sport, please visit Mas Wrestling USA, and if you're in Southern California, visit The Training Hall to give the sport a try.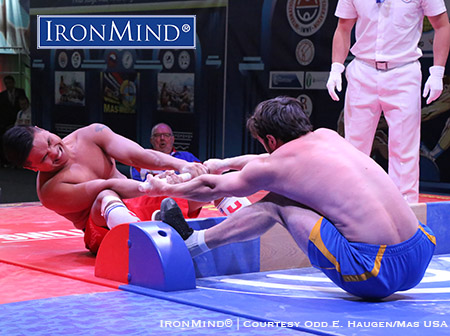 Romark Weiss (left) shown in the semi-finals at the 2015 Mas Wrestling World Cup (Moscow, Russia), will be competing in the 70-kg class at the 2016 Mas Wrestling World Championships. IronMind® | Courtesy Odd E. Haugen/Mas Wrestling USA

                                      


                                                   ###



You can also follow IronMind on Twitter and on Facebook.                        



Want to talk grip, strongman, weightlifting . . . everything strength? Visit the IronMind Forum.