Mas Wrestling: OB & Odd Headed to Dubai
The final stage of the 2013 Mas Wrestling World Cup tour is coming up in Dubai and Robert "OB" Oberst and Odd Haugen will be competing there.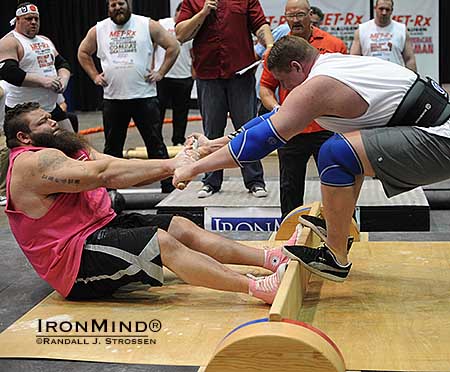 Robert "OB" Oberst (left) launches James Rude at the Mas wrestling event which was part of the 2013 Odd Haugen Strength Classic at the Los Angeles FitExpo. IronMind® | Randall J. Strossen photo


Also known as stick wrestling, mas wrestling begins with two competitors squaring off, feet braced against a board and holding a stick, as each tries to pull the other out of position.

The event was an instant hit in Los Angeles and since then, Odd Haugen formed MAS USA to develop the sport in the United States,—allowing top competitors to qualify for and compete in international mas wrestling events.

Both Haugen and Oberst have significant credentials in strongman, with Oberst, for example, making it to the finals in this year's World's Strongest Man contest. Haugen, now in his seventh decade, remains a world class competitor in grip strength contests as well.

Follow this link for full details on Mas Wrestling USA, and mark your calendars for the 2014 All American Mas Wrestling Championships at the Los Angeles FitExpo; also watch for details on the 2014 US Open Mas Wrestling Championships coming up at the NorCal FitExpo in San Jose.

###



Want to talk strength? Join the IronMind Forum.

You can also follow IronMind on Twitter and on Facebook.