Mas Wrestling International: Olonholand Cup
Vlad Redkin reported to IronMind that the 2013 Olonholand Cup, an international Mas wrestling tournament, will be held on June 3 in Yakutsk, Russia.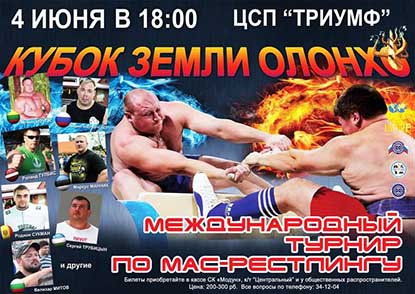 Vlad Redkin, the man who introduced mas wrestling to strongman, has announced the 2013 Olonholand Cup in Yakutsk, Russia. IronMind® | Image courtesy of WSF.


Here is the list of competitors:

1. Rolands Gulbis (Latvia)
2. Antanas Abrutis (Lithuania)
3. Markeu Mannik (Estonia)
4. Zsolt Szabo (Hungary)
5. Sergey Trubicin (Uzbekistan)
6. Hazrat Magamedov (Azerbaijan)
7. Mitov Velizar Todorov (Bulgaria)
8. Arazm Honardzhu (Iran)
9. Radion Sucman (Moldavia)
10. Lucas Machado (Brazil)
11. Victor Kolibabchuk (Russia)
12-14. to be announced (from Yakutsk, Russia)

Also, Redkin reported that Sergey Trubicin won US$2000 for his victory at the first stage of the WSF (World Strongman Federation) Proform World 2013 in Tashkent, Uzbekistan. Rafal Kobylarz won US$1500 for second place and Olexander Lashyn won US$1000 for third place.

In the Mas wrestling competition, Redkin said the top three competitors won diamonds:
1. Sergey Andreychenk
2. Rolands Gulbis
3. Olexander Lashyn

On June 23, Redkin said the WSF European Championships will be held in Poland.

### 



The IronMind Forum: discuss this article, talk strength, get help with your training.

You can also follow IronMind on Twitter.