Mas Wrestling Clinic at NorCal FitExpo
Coming straight from Siberia, Mas wrestlers will be conducting a clinic at the NorCal FitExpo on Saturday, June 29, so you can hone your skills for the US Open Mas Wrestling Championships on Sunday, June 30.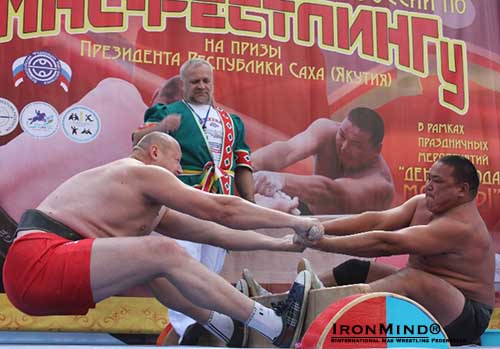 Mas wrestling: brace your feet, grab the stick and pull. The NorCal FitExpo will give you a chance to learn from the best and to put your skills to the test in the inaugural US Mas Wrestling Championships. IronMind® | Photo courtesy of the International Mas Wrestling Federation.


Strongman promoter Vlad Redkin began introducing Mas wrestling to strongman and then earlier this year Odd Haugen featured the sport at the LA FitExpo, where it proved popular with both the competitors and the audience.

Kicking things up a level, Haugen is returning with more Mas wrestling at the NorCal FitExpo in June: a clinic will be held on Saturday, June 29, followed by the inaugural US Open Mas Wrestling Championships on Sunday, June 30. "This is an opportunity for American strength athletes to participate in International Championships in 'new' sport," said Haugen.

###



Visit the IronMind Forum: talk strength, discuss this story. Strongman, grip, Highland Games, Olympic lifting, stones and more.

You can also follow IronMind on Twitter.