Mas Wrestlers Ready to Ring the Bell at the FitExpo
Mas wrestling was a huge hit at the LA FitExpo, drawing the attention of attendees who not only wanted to watch the likes of giant sized Robert "OB" Oberst and James Rude go at it, but also wanted to give it shot themselves.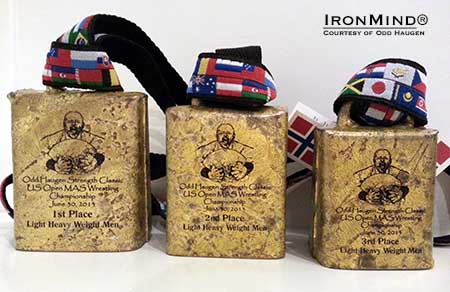 "The top three athletes in each weight division in the 2013 US Open Mas Wrestling Championships will receive an authentic Norwegian cowbell as a 'medal'," OddE told IronMind. IronMind® | Image courtesy of Odd E. Haugen.


Odd E. Haugen, who presented mas wrestling as part of his Strongman Combat event at the LA FitExpo, is kicking it up a notch later this month when he presents the 2013 US Open Mas Wrestling Championships at the NorCal FitExp.

And just because you're not in the range of 6' 8" tall and 400 lb., like Messr. Oberst and Rude, doesn't mean you can play, too: there's a 198-lb (90-kg) class and also one for women. And if you want a chance to brush up on your mas wrestling skills, hop in on the mas wrestling clinic at the NorCal FitExpo.

Here are the full details on the 2013 US Open Mas Wrestling Championships and for the story on these bells, read on (reprinted from cowbells.com):

"MOEN Bells were recognized by the world at the Olympic Winter Games in Lillehammer, Nagano, Salt Lake City, Torino and Vancouver, but enjoy a much longer legacy.

"The first MOEN Bells were produced in 1922, by Tobias Moen in the picturesque little town of Moi, on the west coast of Norway. The bells are cut from iron sheets, formed and coated with brass recycled from spent ammunition cartridges from Norwegian military practice ranges. From bullets to bells!

"Bells are a popular tradition at European sporting events where their distinctive cheerful clamor applauds athletes. The bells have come a long way from their original use--helping farmers find animals lost in mountain pastures." 



###

The IronMind Forum: discuss this article, talk strength, get help with your training.

You can also follow IronMind on Twitter.