Mas USA's president Odd Haugen isn't mincing word when it comes to this weekend's Mas Off: "There will definitely be a clash as gripster and strongman Clay Edgin (320-lb.) will challenge World's Strongest MAN finalist and America's Strongest Man runner-up and USA Absolute Champion in MAS wrestling, Robert "OB" Oberst (+400-lb.).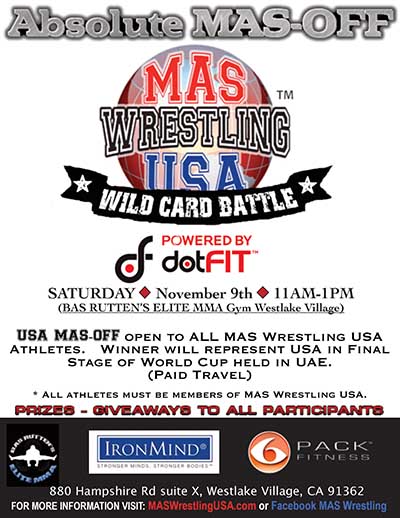 Mas Off! Two men pulling on a stick: one wins and one doesn't, and this weekend's Mas Off features some big names from strongman and grip strength as the competitors include Robert "OB" Oberst and Clay Edgin. IronMind® | Image courtesy of Mas USA


Edgin is certified on the Captains of Crush No. 3 gripper as well as on the IronMind Red Nail and he was the first man in the world to certify on the Crushed To Dust! Challenge; and along with his accomplishments in the grip strength world, he has competed in strongman.

"Also challenging are USA lightweight champion in MAS wrestling Shawn Couch, all-round strength athlete Martins Licis, and arm-wrestler Dave DePew," Haugen told IronMind.

"Still missing (not confirmed) from the lineup are strongman Jerry Pritchett, Evan Hansmann and Shaun Reid. Are they ready to step up and challenge for trip to the MAS Wrestling World Cup in the United Arab Emirates?!"

For full details, please visit Mas USA.

###

Want to talk strength? Join the IronMind Forum.

You can also follow IronMind on Twitter and on Facebook.