Mas Angeles: More Mas Wrestling in LA
Mas wrestling debuted at the LA FitExpo in 2013 and when it proved to be a favorite with both competitors and spectators, Odd Haugen began working to build up the sport the sport in the US and this past weekend, mas wrestling returned to Los Angeles.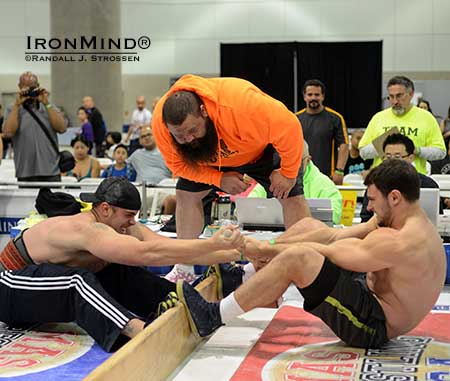 Jon Clark Eklund (left) and Shawn Paul Couch (right) go at it foot-to-foot and hand-to-stick in the mas wrestling tournament put on by Odd Haugen.  Couch had been hitting to the left and the right; switching gears, he dug in and got set, unloaded straight on and won the match.  That's Robert Oberst, a US mas champion and World's Strongest Man competitor (center) refereeing.  IronMind® | Randall J. Strossen photo

 
On Saturday, as the All-American Strongman contest was running, mas wrestling was available to walk-ons: men and women, big and small, younger and older—all could join in the fun and give the sport a try.  Over the day, "hundreds of people gave it a try," Julia Haugen told IronMind.

Sunday featured the All-American Mas Wrestling Tournament: Kristin Oberst won the women's lightweight class and Amy Wattles won the heavyweight class as well as the absolute women's title.

On the men's side, the under 90-kg class had some thrillers: Manuel Gonzales, Shawn Couch, Robert Lira and Jon Eklund had the crowd fully engaged as they went at it.  Couch took the -90 kg title and would go on to face +110 kg winner, Dimitar Savatino (who beat Evan Hansmann 2–1 in the superheavyweight finals) in the absolute championships but capable as Couch is, he was beaten 2–0 by the much bigger, heavier and stronger Savatino.

Watch for a full report in MILO and for more information on mas wrestling, visit MAS Wrestling USA.    

                                                                 ###



Want to talk strength?  Join the IronMind Forum.
 
You can also follow IronMind on Twitter and on Facebook.