Lignano Sabbiadoro, Italy - The Armenian gold medal parade continued at the European Weightlifting Championships as Tigran Martirosyan swept the 85-kg category with winning lifts of 172 kg in the snatch, and 205 kg in the clean and jerk.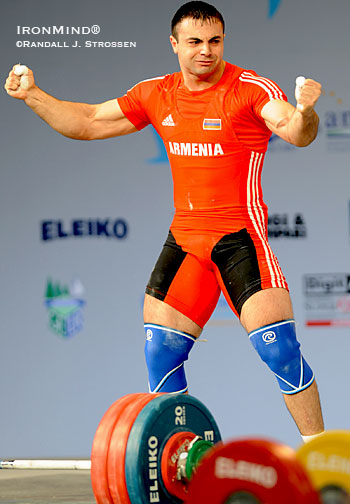 Tigran Martirosyan (Armenia) moved into the lead with this 172-kg snatch and he never looked back. IronMind® | Randall J. Strossen photo.

The only lifter to put any pressure on Martirosyan was Vasily Polovnikov (Russia) and they chased each other all night.

The Russian opened first in the snatch, with a good 168-kg lift, which Martirosyan missed on on his opener, but then stuck on his second attempt - moving into first place on bodyweight. Polovnikov sent 171 up and over his head on his second attempt and, maybe overcompensating, missed it in front on his third attempt. Martirosyan had, evidently, gotten his one miss behind him, as he stuck 172 kg on his third snatch.

The clean and jerk followed the same basic pattern, as Polovnikov opened with 200 kg, for the lead in the jerk and in the total, only to be overtaken by Martirosyan as he made the same weight. Polovnikov recaptured the lead in the jerk and in the total when he made 205 kg on his second jerk, but guess who matched him to leapfrog over him again? Polovnikov took 210 kg on his third attempt, looking for the lead one more time, but after cleaning the weight, he false-started on the jerk, leaving two more gold medals for Martirosyan.