Marshall White Leads at North American Strongman/ASC Pro USA Nationals
"We are done with day one and Marshall White is the overall leader after 4 events," Dione Wessels reported from the 2010 North American Strongman (NAS)/ASC Pro USA National Championships last night.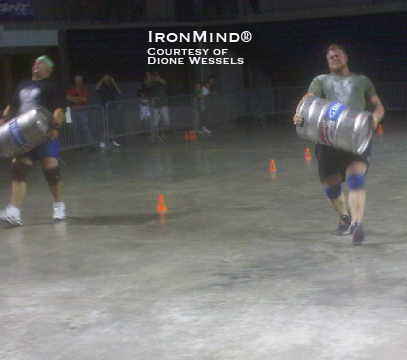 Mike Jenkins (left), who won the Amateur Strongman World Championships at the 2010 Arnold, and Marshall White (right) are in the top two spots at the 2010 NAS/ASC Pro USA National Championships after the first day of competition. IronMind® | Photo courtesy of Dione Wessels.


"Arnold Amateur strongman winner Mike Jenkins is looking very impressive in his first professional strongman event. He and Marshall have been battling with 1st and 2nd place all evening," said Wessels.

Here are the official scores for the top five places after the first day of competition:
| | | |
| --- | --- | --- |
| 1. | Marshall White | 48.0 |
| 2. | Mike Jenkins | 44.5 |
| 3. | Travis Ortmayer | 40.0 |
| 4. | Allan Kliese | 39.5 |
| 5. | Andrew Palmer | 38.0 |

"[Saturday] we start at 1 p.m. with 330-lb. Axle clean and press for reps, Chevy car deadlift, IronMind® sandbag medley, and the Atlas stones.

"The city of Hot Springs has done a wonderful job bringing in fans and filling the Summit Arena. The event is free to the public," Wessels said.
In addition to the glory of winning the pro USA strongman nationals, Wessels told IronMind®, "the top 11 qualify for America's Strongest Man® at the Olympia."




Want to talk strength? Join the IronMind® Forum!

You can also follow IronMind® on Twitter.