Mark Felix Wants to Break Rolling Thunder World Record
"Well Fe turned 45, (lol), and we have been busy getting things together for Bodypower,(in two weeks)," Denny Felix reported to IronMind as her strongman-gripmaster husband, Mark Felix, is "hoping to beat his 301 lb. on the new handle."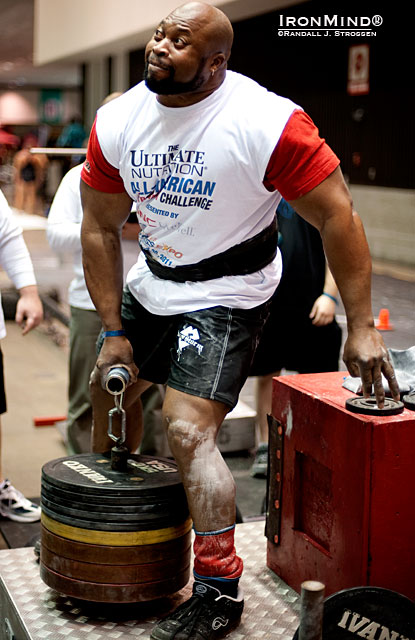 Mark Felix manhandled 260 lb. on the Rolling Thunder at the Los Angeles FitExpo earlier this year, and he's primed to break the world record—his world record. IronMind® | Randall J. Strossen photo.



"Training has been going good (he's keeping hush), but really wants to break another record on home soil," Denny Felix said.

"I've sent him to the gym tonight with camcorder in hand for a Rolling Thunder video, get a bit of hype going for our British Rolling Thunder Championships," Denny said.

Speaking of another strongman-gripmaster, Denny said, "Brian Shaw will be coming over for the weekend as a guest and I'm hoping he might be tempted to take part in the Rolling Thunder.

"We will have Steve Gardener looking to take scalps and Loz [Laurence Shahlaei], with some of the other athletes from Saturday if they can make the [opening] weight."
On the strongman side of things, Denny said, "We are good to go on Saturday with our Opens and Heavies, 30 guys in
each, all events head-to-head, one being the IronMind sack loading again."
So, it's strongman on Saturday, May 21 and the 2nd Annual British Rolling Thunder Championships on Sunday, May 22. For full details, please visit the official website.

###


The IronMind Forum: discuss this article, talk strength, get help with your training.

You can also follow IronMind on Twitter.