Mark Felix Demolishes Rolling Thunder World Record
The Rolling Thunder world record had stood at 301 lb. since early 2008, when Mark Felix became the first man in the world to break the 300-lb. barrier in this benchmark test of grip strength, but tell that record goodbye because Mr. Felix pounded one out of the park on Sunday, as he hit a lift of 146.75 kg (323.5 lb.) at the 2012 Bodypower Expo in Birmingham, England.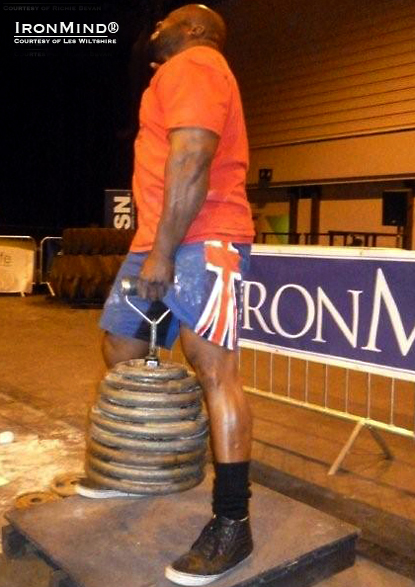 Mark Felix uncorked this 146.75 kg lift to officially break the men's Rolling Thunder world record by a whopping 20-plus pounds. IronMind® | Photo courtesy of Les Wiltshire.


Richie Bevan submitted the official paperwork to IronMind for one of the lifts Felix had done earlier in the competition, a mere 132 kg and only mentioned in passing that Felix had gone on to lift 150.7 kg as well. Asked for more details, Bevan told IronMind:

"As for the 150.7 kg lift, Mark had done his 4 lifts + 1 lift for the 132 kg but asked for 5 kg to be added as he felt he still had more in the tank, he lifted it no problem and asked for another 5 kg and then another bringing the total to 146.75 kg.

"Mark lifted this perfectly but decided to stop there. All lifts were kept in the rules and the weights where weighed accurately by myself and witnessed by Mark, Steve Gardener, Les Wiltshire and Mick Gosling."

The lift was reviewed by IronMind's Randall Strossen, who summoned a panel of two independent gentlemen who are well known and highly experienced in the field of grip strength contests.

"Felix's lift received strong support from the panel, making my decision easy," Strossen said.

The Rolling Thunder world record had been frozen for over four years and then the ice cracked early this spring as former world record holder Laine Snook stood the grip world on its head with uncanny lifts of 315 and 332 lb., rather casually, in his home gym:

http://www.ironmind-forum.com/showthread.php?1609-Single-lifts-with-the-new-Rolling-Thunder-handle-315lbs-and-332lbs&highlight=laine

Snook's lifts were a turning point not just for their sheer mass, but also because they absolutely crushed the cries of some who argued that the Rolling Thunder world record should be rolled back, since the top lifts in recent years had all been shy of Felix's 2008 high water mark.
Felix's top lift was originally reported as being 150.7 kg, but Strossen followed up with Richie, asking why—based on the reported increases—it wasn't 147 kg, instead of 150.7 kg, expecting to hear that the 5-kg increases were the nominal weight and the 150.7 kg was the actual (weighed) total. Instead, it revealed a computational error on the scoresheet, and the correct actual weight for the top lift was 146.75 kg.

Coming into the Bodypower Expo, Mark Felix kept a very low profile about his readiness to assault the Rolling Thunder world record and while he'd repeatedly mentioned a 140-kg goal in the past, he'd never mentioned anything higher, at least not to IronMind.

Hats of to Mark Felix—the past and present owner of the men's Rolling Thunder world record!

###

The IronMind Forum: discuss this article, talk strength, get help with your training.

You can also follow IronMind on Twitter.