"Mariusz Was Great . . . I Think He Will Be 5-Time World's Strongest Man"
Even though he was "very tired" after competing in Poland the day before, "Maruisz [Pudzianowski] was great," WSF founder Vlad Redkin told IronMind®. "I think he will be five-time World's Strongest Man."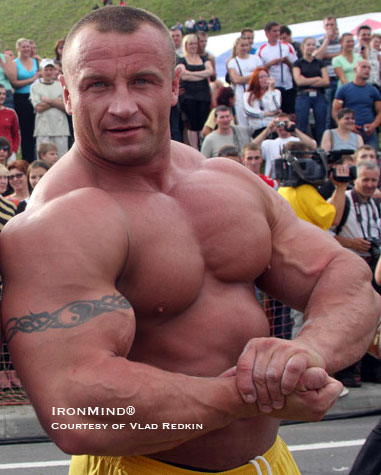 Bill Kazmaier has said that strongman is lucky that Mariusz Pudzianowski didn't decide to be a bodybuilder instead. IronMind® | Photo courtesy of Vlad Redkin.

Tired or not, Mariusz Pudzianowski won four of the six events in this last weekend's WSF contest, and he came in second place in the other two. "New Latvian athlete Artis Plivda beat Mariusz in the Conan's wheel," Redkin told IronMind®, and Dave Ostlund, who "showed great speed in the stones," reigned supreme in the court of Atlas. Also turning in an impressive performance at the World Strongman Federation (WSF) competition in Belarus was Elbrus Nigmatullin: "Elbrus . . . step by step preparing for World's Strongest Man and he will show great results," Redkin said.

But, returning to the strongman star from Poland, Mariusz Pudzianowski still had Vlad Redkin's vote for winning WSM '08: "He can do it!"