Mariusz Wants the Rematch
Mariusz Pudzianowski is at the top of his field: He's won the World's Strongest Man contest three times, is in constant demand for appearances, and is so highly regarded as a competitor that he is considered a potential winner in every contest he enters.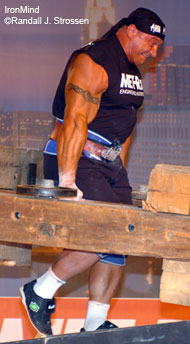 The MET-Rx Man of Muscle: Mariusz Pudzianowski fells the Timber Carry at the recent Arnold Strongman contest, a really heavy event at a really heavy contest produced by World Class Events (WCE). IronMind® | Randall J. Strossen, Ph.D. photo.
But don't think all that success makes life easy: Consider what Mariusz's schedule was like coming into the Arnold Strongman, where his fans were disappointed that he didn't produce a top performance.

According to someone very familiar with the situation, Mariusz trained for about two hours a day, first thing in the morning, and then did exhibitions, had photo sessions, was in meetings, etc. until about 11:00 p.m. each weekday. On the weekends, he would do three or four exhibitions a day, often having to drive hours from one to another.

This hectic appearance schedule, which is the result of fame stemming from his World's Strongest Man titles, certainly has added greatly to the fortune of Mariusz Pudzianowski - thought to be the top earning professional strongman on the circuit - but it has meant that he simply cannot come into each contest in top condition.

The Arnold Strongman was just such a casualty; but even so, to get an idea of why Mariusz Pudzianowski scores so high in peer reviews, consider that the opening event at this year's Arnold was the make-or-break Timber Carry, which only Mariusz and all-time top deadlifter Benedikt Magnusson completed. And when you consider what Mariusz running at 85% can do, is it any surprise that he has announced that he is eager to compete against the top strongmen from the Arnold again?

Anyone want to guess who Mariusz is predicting will win?