Mariusz Pudzianowski: More WSM Titles?
Just in from a source very close to Mariusz Pudzianowski: while the Polish strongman star had to pull out of Fortissimus to safeguard his recently-operated-on biceps, expect Mariusz to be at full strength for the 2009 World's Strongest Man contest.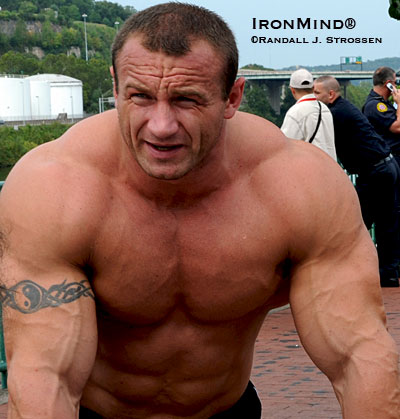 He had just won the first event at the 2008 MET-Rx World's Strongest Man contest, silencing the critics who said Mariusz Pudzianowski was too injured to carry on. Two days later, Mariusz won his fifth World's Strongest Man title, becoming the first man ever to achieve this distinction. IronMind® | Randall J. Strossen photo.


No doubt good news to his fans, word of Mariusz Pudzianowski's intentions to be in the thick of things at this year's World's Strongest Man contest is only the beginning of the story: His co-manager, Wojtek Witkowski, told IronMind® that he foresees Mariusz competing for another one or two seasons, news that will either have other strongman competitors training extra hard or looking over their shoulders as they focus on second place.