Mariusz Pudzianowski: Big Win at the Mohegan Sun
Mohegan Sun - Playing to a crowd filled with his fans, Mariusz Pudzianowski let everyone at the WSMSS Mohegan Sun Grand Prix know why he's the man to beat when he goes for his fourth World's Strongest Man title later this year.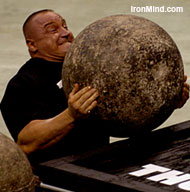 Mariusz Pudzianowski loads the sixth and final stone - the only competitor to conquer the full set. IronMind® | Randall J. Strossen, Ph.D. photo.

Unfortunately, injuries whittled down the field, but that didn't mar what was seen as an outstanding contest. Commenting on the arena filled with enthusiastic fans tonight, WSMSS founder Ulf Bengtsson said, "It shows that we are doing the right thing with our live shows - the audience was fired up for three hours. This shows that the sport has a future both audience-wise and commercially."

The final places and points for the top six were:

1. Mariusz Pudzianowski 80.5 points
2. Jesse Marunde 60.5
3. Josh Thigpen 59
4. Terry Hollands 55
5. Kevin Nee 53
6. Karl Gillingham 50