Mariusz Out of Madison Square Garden, Fortissimus . . . and Into Surgery
Mariusz Pudzianowski is going in for surgery "at the end of May or beginning of June," and given the required rehabilitation time, he will be forced out of some major competitions.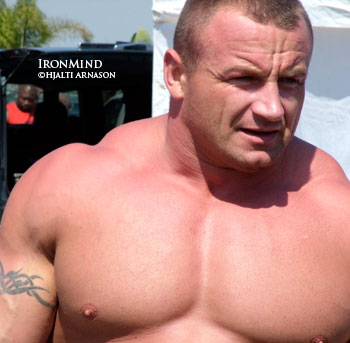 Mariusz Pudzianowski has won four World's Strongest Man titles, and this year he would like to add a record fifth title to his considerable collection. IronMind® | Hjalti Arnason photo.

"I resign from participation in many international competitions and shows with regret, and I pay my respect to the organizers of these events," read the official statement. "I hope you will show an understanding of my choice and you will respect my decision."

Looking at a two-month rehabilitation program, Mariusz is scheduling the operation as soon as possible: "I also want to finish my rehabilitation in time to be able to take part in the most important competition for me, which is the World's Strongest Man competition!"

Mariusz had high praise for the Super Series contest at Madison Square Garden, telling IronMind®, "Madison Square Garden will be one of the most difficult contests in the U.S. . . . I think competition will be tough there!" Still, in terms of his priorities, there was little choice for Mariusz, who told IronMind®, "I have a chance and I want to win the fifth World's Strongest Man title. I'll be working hard for this to happen; I know it will be very difficult, but it's my only goal this year!"

Despite his plans to go under the knife, you can still count on seeing Mariusz Pudzianowski as part of the Super Series Madison Square Garden Grand Prix because he "will come to New York for three days of promotion and as an honorary guest at the event in the WaMu Theater at MSG on June 21," Super Series Managing Director Jesper Albansson told IronMind®. "Obviously we are sad that Mariusz is not competing, but we are happy that he takes responsibility for his own well-being. We have invited Mariusz to New York and the event in the WaMu Theater at Madison Square Garden so that the fans will be able to meet and greet him. We have a few exciting things lined up for him there."

More details are expected to follow.