Mariusz: Marching Toward WSM '07
Anybody who saw three-time World's Strongest Man winner Mariusz Pudzianowski at the WSMSS Muscle Beach Grand Prix could see that he wasn't there on holiday - same thing this weekend in Norway, where he won the WSMSS Viking Power Challenge."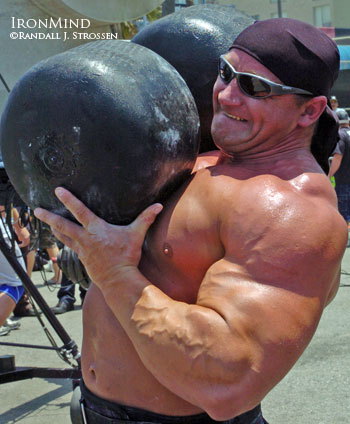 Even before the WSMSS Muscle Beach Grand Prix began, Mariusz Pudzianowski tore into the Circus Dumbbell. This weekend, Mariusz won the Viking Power Challenge in Norway, where Odd Haugen said, "He looked pretty amazing . . . The contest was no slam dunk for him, but he was here to go and get it." IronMind® | Randall J. Strossen, Ph.D. photo.

Mariusz was followed by his friend and countryman Jarek Dymek, and Magnus Samuelsson rounded out the podium.

Contest organizer Lene Karlsen told IronMind® yesterday, "We just got home from the best strongman contest ever . . . according to the athletes - yippee!!!!! When the athletes are that happy, we are happy!"

Here are all the places:

1. Mariusz Pudzianowski
2. Jarek Dymek
3. Magnus Samuelsson
4. Terry Hollands
5. Janne Virtanen
6. Karl Gillingham
7. Espen Aune
8. Richard Skog
9. Odd Haugen, Boris Haraldsson (tie)
11. Mark Felix
12. Rene Minkwitz

How good did Mariusz look?

Odd Haugen said, "If Mariusz just took a few weeks off from exhibitions and competitions, he would be unbeatable - none of us would have a chance. He was going to a competition in Poland the day after the Viking Power Challenge - he's a machine."

For photos from this weekend's contest, please check the Viking Power blog.