Marcin Dolega: World Record and Two Gold Medals
Wladyslawowo, Poland - Marcin Dolega (Poland) did his countrymen proud, snatching a world record and pocketing a pair of gold medals to close out the 2006 European Weightlifting Championships about as well as our hosts or anyone else could want.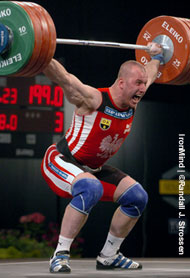 How sweet it is: Marcin Dolega snatches a world-record 199 kg on his way to victory in the 105-kg category at the European Weightlifing Championships today. IronMind® | Randall J. Strossen, Ph.D. photo.
With two fearsome snatchers in this class - Vladimir Smorchkov (Russia) and Marin Dolega - a big number was expected, and when Smorchkov missed 194 on his second and third attempts, the ball was passed to Marcin Dolega, who hit pay dirt with 190 kg, 193 kg and then 199 kg, for a new world and European record.

To bring home the bacon, Marcin Dolega had to try to hang on in the clean and jerk, and after a good opener with 221, things were looking good - the pendulum quickly went the other direction, though, when he missed the jerk on 225 on his second attempt; but, knowing that this was a critical lift if he were to claim victory in the total, he dug in and made the weight on his third attempt. The only lifter really within range of overtaking Dolega was Smorchkov, and on his third attempt he called for the 234 needed to do the job - he went for it, got under the bar, stood up, jerked it, but could not lock it out, and while they certainly had been good sports about his effort, the Polish fans packing the competition hall made no bones about being happy that their man had just won the 105-kg crown.