Marc Lauzon: Fortissimus Head Referee . . . Bonus Prize Announced
Marc Lauzon, "the senior strongman competition official in Canada," has been named as the "referee in chief" by the Fortissimus steering committee, following its meeting yesterday.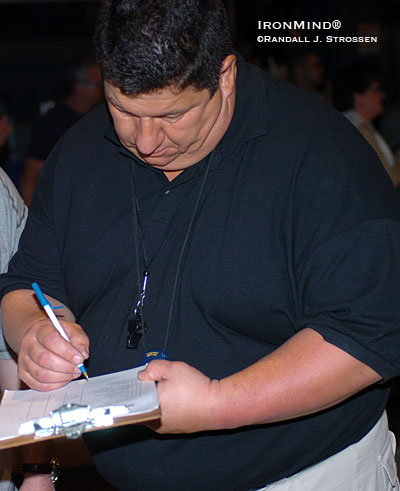 This is was a big moment at the 2004 World Muscle Power Championships, and the man in charge of sorting out the scores will also be calling the shots at Fortissimus . . . Marc Lauzon. IronMind® | Randall J. Strossen photo.

"Lauzon was commissioned as international referee in 2003 by Dr. Douglas Edmunds, thus becoming the first Canadian ever to hold the certification," Fortissimus steering committee chairman Paul Ohl told IronMind®. "He has been officiating over the past eight years and has refereed more than 80 strongman competitions."

Ohl also told IronMind® that, "The steering committee has approved all ten events for the June 28 - 29 competition" and, sweetening the pie, Ohl explained that as a reward "for the highest total poundage output by one competitor over the two days . . . a bonus prize and the Sigmarsson Strength Award" would be given.

IronMind® is following up with Fortissimus, trying to get more detail on the events, so stay tuned.