Marc Huster Knows When to Say When
Always one to understand the larger situation, Marc Huster told IronMind® that while many people have urged him to return to competition, he has no plans for a comeback.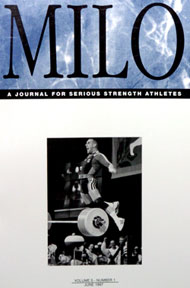 Flying Huster: The man who, explaining his soaring leaps, once told Randall Strossen, "Maybe I should have been a kangaroo," celebrates his world record clean and jerk set at the 1996 Olympic Games. If you want to read more on Marc Huster, please see the article in MILO Volume 5 - Number 1 (June 1997). IronMind® | Randall J. Strossen, Ph.D. photo.
Fondly known as "Super Huster," this dynamic German lifter provided some of the most memorable moments in weightlifting during the 1990s as he battled Pyrros Dimas, and whether he won or lost on the platform, Marc Huster always demonstrated an understanding that went well beyond what to call for on his next attempt.

Huster said that people have urged him to return to competition because his best numbers are still huge - as an 85-kg lifter he snatched 177.5 at the 2000 Olympics and cleaned and jerked 215 kg at the 1999 European Championships - but Huster, who retired after the 2001 World Weightlifting Championships, once again shows his wisdom. "They forget that I am five years older now," Huster said, and while he does pulls, deadlifts and squats once a week, along with playing a little football (soccer), Marc is quite content with the next chapter of his life, which sees him working as a television commentator and presenter - a job that seems well suited to the personable weightlifter who charmed audiences as effectively as he overcame gravity when he was top competitor.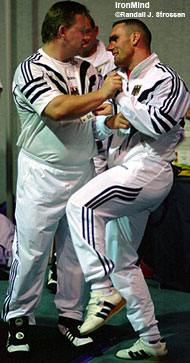 Minutes before locking horns with Pyrros Dimas at the 1996 Olympics, Marc Huster (right) horses around with German National Coach Frank Mantek. Huster got behind Dimas in the snatch, but proving his mettle, he came back to add a world record in the clean in jerk to the silver medal he brought home from Atlanta. IronMind® | Randall J. Strossen, Ph.D. photo.