Magnus "World's Strongest Arms" Samuelsson
"I haven't got the results back from the MRI yet," Magnus Samuelsson told IronMind yesterday, "but I'm starting to push my back training a little bit harder."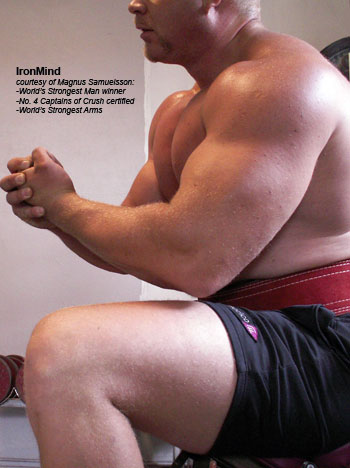 Wonder where the name World's Strongest Arms came from? Magnus Samuelsson has the strength to close a No. 4 Captains of Crush® Gripper, as well as to bench press around 300 kg without a shirt, and he attacks the truck pull as if he had the power of four legs. IronMind® | Photo courtesy of Magnus Samuelsson.
And if you want to know just how much Magnus is talking about, here are some numbers.

"Deadlifted 300 kg for 5 reps," Magnus said, "followed by 3 sets of five with 270 a few days ago. It felt great and I had no pain the day after." And if you read IronMind®'s story about Magnus's high-rep deadlift training, here's the next installment.

"Next up is to try to pull 250 kg for 100 reps with in 35 minutes. The goal is to pull 330 x 5 fast and easy within a few weeks," Magnus said.

And don't think the man known for having the World's Strongest Arms - a mighty bench presser and a man who clicks the No. 3 Captains of Crush® Gripper as if it's a plastic castanet - has been sloughing off when it comes to the rest of his training.

"My upper body training is responding well to the hard treatment I'm giving it," Magnus said, and considering some of his PRs, Magnus must be hitting some stratospheric heights.

And the bottom line for The Big Swede? "It feels like there finally is some light in the dark tunnel of injuries that I have been fighting for some time now. I'm enjoying myself!"