Magnus Ver Magnusson Update
Four-time World's Strongest Man winner Magnus Ver Magnusson isn't starting a new career as an art dealer, but he is selling a limited edition statue of Jon Pall Sigmarsson, also a four-time World's Strongest Man winner.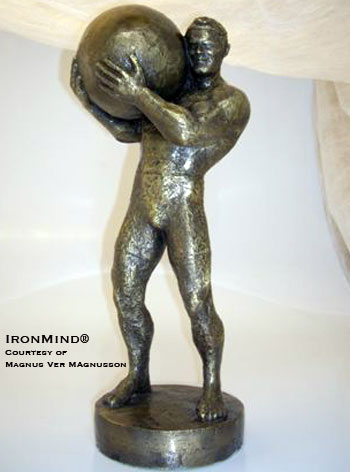 This Jon Pall Sigmarsson statue is being offered for sale by Magnus Ver Magnusson, who told IronMind® that he has been working on this project with Jon Pall's son. IronMind® | Photo courtesy of Magnus Ver Magnusson.
This is the same statue that was used for the 2006 and 2007 IFSA World Championships, Magnus Ver Magnusson told IronMind®. It's a bronze shell, Magnus Ver explained, and the 50-cm (about 20-in.) tall statue weighs a little under 8 kg (about 17 lb.). Not inexpensive, the statues go for US$3,000 each and because it's a limited edition, Magnus Ver said there might be a short waiting period for buyers. IronMind® will be happy to forward serious inquiries.

Incidentally, don't think this means that Magnus Ver will be any less active on the strongman circuit this year: he is running a contest this weekend, next week he is off to referee at the Strongest Nation competition in the Ukraine, and August 14 - 16 it's time for his biggest competition, the East Coast Giant.