Magnus Ver Magnusson: "Just Chilling"
Especially because he was speaking from Reykjavik, it's hard to argue with four-time World's Strongest Man winner Magnus Ver Magnusson when he told IronMind® that he's "just chilling."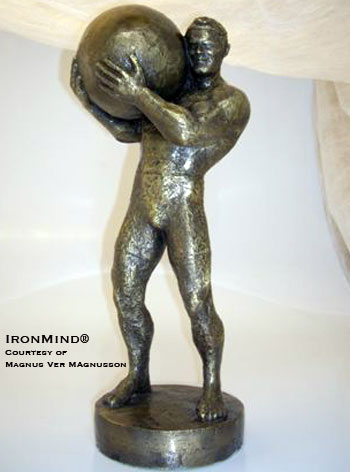 For US$3,000 you can buy one of these Jon Pall Sigmarsson statues. IronMind® | Image courtesy of Magnus Ver Magnusson.


Saying that he's weighing about 128 kg and only training two times a week, Magnus Ver explained that the reason he's "hardly training" is because he's "lost the hunger . . . There is nothing to push me into the gym."

"But you're probably still pretty strong," we asked.

"Yeah," Magnus Ver allowed, and when pressed for a couple of details, he said, "I can still bench press 200 kg raw, with basically no training." And if that doesn't make you feel bad enough, consider that Magnus Ver said that even if he doesn't touch them for two months, he can always deadlift 300 kg.

He mentioned possibly opening a hardcore gym and a couple of other projects, and if you're a collector looking for something special, Magnus Ver still has a couple of the limited edition Jon Pall Sigmarsson trophies for sale - they're not the same color, but otherwise, they are identical to what Zydrunas Savickas and Vasyl Virastyuk won for their IFSA World Championship victories, so buy one, get a can of Krylon paint and . . .