Magnus Ver: "Let's See $200,000"
He's a four-time World's Strongest Man winner, now he's a honcho at IFSA, and more than once along the way, he's made himself unpopular speaking his mind, so don't expect Magnus Ver Magnusson to sugarcoat things when it comes to expressing his concerns about Fortissimus 2008.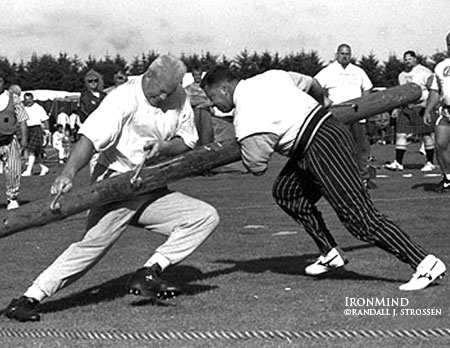 Some might be quick to say that Magnus Ver Magnusson sometimes got the short end of the stick when he was a competitor, but no matter, he'd come out on top anyway. Here, Magnus Ver (right) "tosses 'Megaman' Nathan Jones around like a rag doll" in the Pole Push at the 1995 World Muscle Power Championships (Mintlaw, Scotland). See the full report in the October 1995 issue of MILO®. IronMind® | Randall J. Strossen, Ph.D. photo.

Sure, there was the expected, "What the f***" and the significantly better, "Do they think they just invented the wheel" but the best was Magnus Ver's recitation of concerns, from the perspective of an athlete or an athlete's representative.

"They are acting like this has never been done before," Magnus Ver told IronMind®, "and that this will be the greatest thing ever. It takes time and experience to get good at it. If I were an athlete or if I were representing an athlete, I would not compete under these conditions."

One of Magnus Ver's primary concerns is the selection of events and the equipment that will be used - once again citing the need for experience. It's not just the truly accidental equipment failure, always a possibility, that Magnus Ver was referring to, or even proof that the equipment holds up - his point was that the equipment had to be adequate for the job, but the event itself also had to be meaningful and safe . . . things that might take some experience to establish.

"You can't build new equipment and just expect somebody to test it," Magnus Ver told IronMind®, rattling off the need to be knowledgeable and strong enough for the task.

And don't forget strongman politics: Magnus Ver suggested that since the strongman world is basically split into two camps - IFSA on one side and WSM on the other - a representative from each side should be able to inspect the equipment prior to the contest.

"What experience do these guys have doing a contest or making equipment" asked Magnus Ver, summarizing some of his chief reservations.

But don't think these concerns mean that Magnus Ver is not supportive of Fortissimus 2008.

"I hope it comes through," he said. "I would like to see them succeed. And if it's really the greatest strongman show ever, it should have the highest money ever."

"How much" we asked Magnus Ver.

"At least $200,000 . . . with $70,000 or $80,000 for the winner," he said.