Magnus Samuelsson: Torn Rotator Cuff, Busy Filming, Book News
After going through rotator cuff surgery, Magnus Samuelsson is on the rehabilitation trail, he told IronMind yesterday, and he's still training for the same reason he always has: because he enjoys it.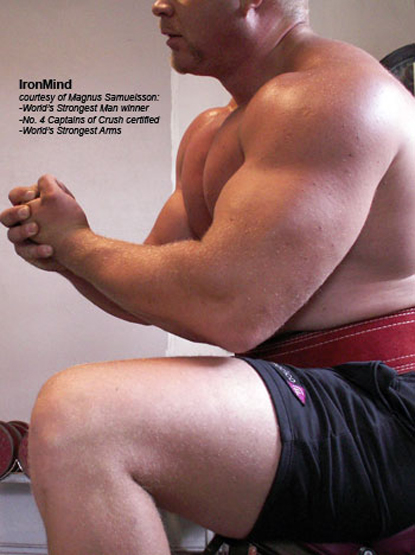 In the strength department, Magnus Samuelsson isn't just a World's Strongest Man winner—he's also been certified on the No. 4 Captains of Crush gripper and was dubbed owner of the World's Strongest Arms. Asked for an arm training tip, Magnus told IronMind with a laugh, "It's like everything else: a lot of kilos and a lot of reps!" IronMind® | Courtesy of Magnus Samuelsson.


The former World's Strongest Man and Dancing With The Stars winner has been busy filming for months, so for all his fans who are hoping for the English translation of his book, Magnus said that especially with this injury he had gotten a bit behind schedule, but hopes to have some news on this front shortly.

Talking training, Magnus Samuelsson said that for years strength training was the focal point of his life, but when he retired from strongman competition and there were other demands on his time, his workouts often got pushed off until the end of a very long day. No matter, though, because he's working to regain mobility in his shoulder and return to very good condition.

"Whether you are 25 or 50, you still have goals," said Samuelsson. "That's the beauty of strength training."

###


Want to comment on this article or just want to talk strength? Join the IronMind Forum!

You can also follow IronMind on Twitter.