Magnus Samuelsson Ready for a Big Year
"I've never been this strong in my whole physique before," 1998 World's Strongest Man winner Magnus Samuelsson told IronMind® today.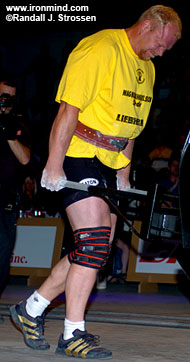 Magnus Samuelsson, shown competing at the 2004 World Muscle Power Championships (Dolbeau-Mistassini, Quebec), says he's off to a terrific start for 2006. IronMind® | Randall J. Strossen photo.

"At times, my bench press was up a little, but then my deadlift was down, " Samuelsson said, but right now, the man known for having the world's strongest arms confessed to being "a bit happy," because considered in aggregate, he is the strongest he has ever been.

Magnus Samuelsson said his 2006 competitive season is going to be built around trying to qualify for theWorld's Strongest Man contest. In addition to that overall goal, he said that he will "definitely compete in some World's Strongest Man Super Series events, and will probably compete in some World Strongman Cup events as well."

The two-meter tall 147-kg strongman said that although his bodyweight remains about the same as last year, he is a bit leaner, which he attributes in part to a change in his diet which now includes "massive amounts of protein."