Magnus Samuelsson Looks Ahead
Coming off an impressive victory yesterday at the Swedish Grand Prix, Magnus Samuelsson said that win, along with his strong performance at this year's World's Strongest Man contest, means that he will continue competing.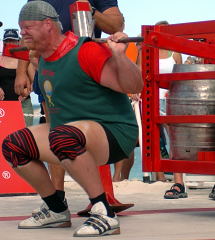 Magnus Samuelsson puts the spectacular Jamie Reeves-designed squat apparatus to the test at the 2004 World's Strongest Man contest (Paradise Island, Bahamas), which will be on TV soon - check your local listings for details. IronMind® | Randall J. Strossen, Ph.D. photo.


Magnus Samuelsson was a competitive arm wrestler before he got into strongman, and besides being a top competitor, he is also very popular. Winning four of the seven events yesterday, Samuelsson said that it all still came down to the final event, the deadlift, because Zydrunas Savickas was right behind him. Rather than using a strongman variation, the deadlift event used an Eleiko bar and plates, and three attempts were allowed: Samuelsson's 330-kg third attempt was good enough for fourth place in the event and first overall.