Magnus Samuelsson Looking for 11
"Strength-wise," Magnus Samuelsson said, "I've never been better."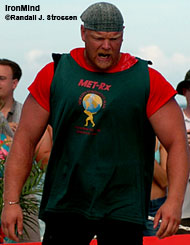 Magnus Samuelsson about to squat at the 2004 MET-Rx World's Strongest Man contest. IronMind® | Randall J. Strossen, Ph.D. photo.

Weighing 153 kg at the moment, the tremendously popular World's Strongest Man winner Magnus Samuelsson said that his back is recovering and he is looking forward to competing in this year's MET-Rx World's Strongest Man contest, which would be his eleventh appearance in the WSM competition. Earlier this year, Samuelsson injured his back, but he said that it has been healing, and with ten World's Strongest Man contests under his belt, Samuelsson is focusing on the 2006 edition of the signature strongman show.

Known for having the world's strongest arms and grip, among other things, Samuelsson is quite a bench presser, as well, and as an indication of his current strength levels, the 1998 World's Strongest Man winner said he would have no hesitation about going for a 300-kg bench press on a stage in front of thousands of people - no shirt, just touch and go.