Magnus Samuelsson, World's Strongest Man winner and the owner of the world's strongest arms and hands, had his 2006 competition year derailed by back problems, so he got an MRI to find out just what is going on.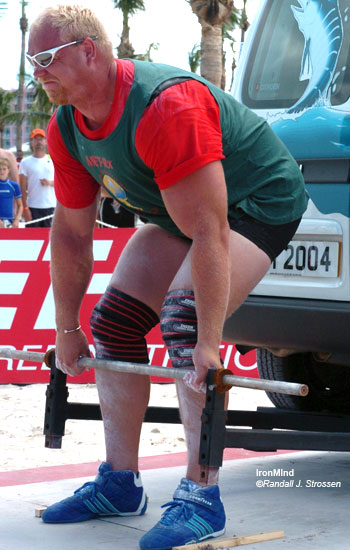 World's Strongest Man winner Magnus Samuelsson has hands that close the No. 4 Captains of Crush® Gripper, arms that bench around 300 kg (no shirt) and a back that sometimes just does not do what he wants it to do. IronMind® Randall J. Strossen, Ph.D. photo.
Speaking of how frustrating it was last year, Magnus said, "I was in the shape of my life . . . except for one tiny problem . . . my back."

While awaiting the doctor's verdict, Magnus is doing plenty of rehab work, including 100-rep deadlifts. Magnus said that he began with 100 kg for 100 reps in the deadlift, gradually increased the weight, and now he is doing 200 kg for 100 reps.

He's always been a big bench presser, so it was natural for IronMind® to ask Magnus if he was still benching in the 270-kg range.

"It's more like 300," he said, and this is from a man who doesn't even own a bench shirt.