M&M Pockoski Win Ventura Highland Games
M&M, as in Mike and Mindy or Mr. and Mrs, Pockosi took top honors at the Ventura, California Highland Games this weekend and Francis Brebner has filed this report for IronMind®.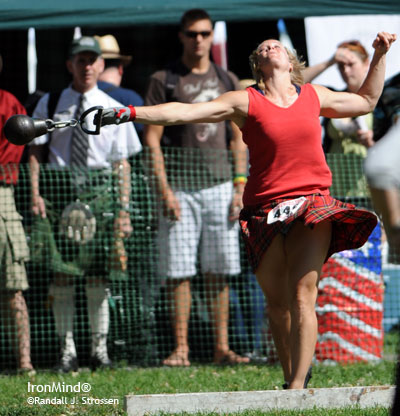 Mindy Pockoski was red hot at the Pleasanton Highland Games (presented by the Caledonian Club of San Francisco), where she won every event and broke one world record. This past weekend, she continued her roll at the Ventura Highland Games. IronMind® | Randall J. Strossen photo.


Ventura Highland Games by Francis Brebner

It was double delight this weekend at the Ventura Highland Games in Southern California as both husband and wife Mike and Mindy Pockoski took top honors.

Mindy, who is the current women's world champion, established two new world records, with her top marks in the 14-lb. and the 28-lb. weight for distance. The first world record to tumble for Mindy was the 28-lb. weight for distance, breaking the record set by former women's Highland Games world champion Shannon Hartnett in Fergus, Ontario in 2000. Shannon's record was 47' 11-1/2".

Mindy added several inches to this distance with a throw of 48' 2-1/2" to establish a new world record.

The second world record to topple for Mindy was the 14-lb. weight for distance, where she broke her own record (88' 2") set at the Greensboro Highland Games earlier this year. Mindy improved on this with a distance of 88' 7-1/2".

Husband Mike Pockoski dominated the men's pro division, winning the 16-lb. open stone with a distance of 50' 4". In second place was Harrison Bailey with 48' 5", and Ryan Vierra was third with 46' 6". In the 22-lb. Braemar stone, Mike Pockoski won again with 39' 1-1/2"; Bailey was second with 38' 7-1/2", and Vierra was third with 38' 6".

The 16-lb. hammer was hard fought between Ryan Vierra and Mike Pockoski, which thrilled the crowd, and it was Pockoski, with a winning throw of 134' 2", who took the victory. Vierra had to settle for second with 128' 2", and Bailey was in third with 118' 2".

In the heavy hammer, Pockoski showed great form again, throwing the hammer 110' for the win. Vierra was second with 97' 2", and Bailey was third with 96' 5".

The 28-lb. weight for distance was also very close, with Pockoski coming out on top, with the winning throw of 80' 5" over Vierra, who had to settle for second with a throw of 80'. Bailey was third with 76' 2-1/2".

In the 56-lb, weight for distance, Pockoski narrowly took the win over Vierra, with a throw of 42' 2". Vierra was second with 41' 6", and Bailey was third with 40' 5".

In the caber, which was 19' long and weighed 130 lb., Pockoski once again notched a victory, with a toss of 11:50. In second was Vierra with 12:15, and in third was Bailey with 11:45.

In the final event of the competition, the 56-lb. weight over the bar, it was Bailey who came into his own, winning the event at a height of 17'. Ryan Vierra, Mike Pockoski and Andrew Hobson all tied at 16'.

Mike Pockoski was first overall, followed by Bailey in second and Vierra in third.