MLO Strongman Champions League: Three World Records in Bulgaria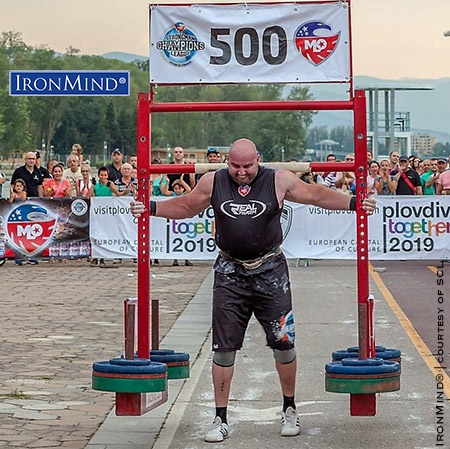 With temperatures of 40 C/104, Bulgarian strongman Stoyan Todorchov blazed to three new world records in from of the hometown crowd filling the arena.

In a case of understatement, MLO Strongman Champions League director Marcel Mostert, told IronMind, "Todorov was really strong today FIn an unbelievable hot 40 degrees weather, with a full arena, the Bulgarian Stoyan Todorchev was really strong today as he broke 3 world records and also took the title of the MLO Strongman Champions League Bulgaria.


"First he did the farmer's walk, 400 Kg over 25 meter and broke the distance of Stefan Solvi Pétursson, set at SCL Guinness World records in China this year, and his time 16.65 seconds goes in the books as a new world record, also.


"After the second event log lift for reps, he had recovered and Stoyan set a new world record with the Yoke Race for Max with 500 kg, walking 16.50 meter without a drop.

"May I say that the man was fired up totally by his own crowd!


"This competition was very exciting, because with one event to go, there were still 5 athletes who could win the title, and Stoyan was tied with Matjaz Belsak, but in the end, Stoyan beat Matjaz by one point.
 


Top Ten
| | | | |
| --- | --- | --- | --- |
| 1. | Stoyan Todorchev | Bulgaria | 60 |
| 2. | Matjaz Belsak | Slovenia | 59 |
| 3. | Dainis Zageris | Latvia | 55 |
| 4. | Bjorn Solvang  | Norway | 52 |
| 5. | Alex Moonen | Holland | 49 |
| 6. | Antti Mourujarvi | Finland | 41 |
| 7. | Marian Dimitrov | Bulgaria | 29 |
| 8. | Aurelien Le Jeune  | France | 27 |
| 9. | Keskus Ronin | Serbia | 19 |
| 10. | Damir Slanke | Bosnia |   |

"Again we did set some new standards here and we invite others try to break them.


Stage 8 is next: SCL England," said Mostert.  "Let's see who can win the title."

                                        ###



You can also follow IronMind on Twitter and on Facebook.                        



Want to talk grip, strongman, weightlifting . . . everything strength? Visit the IronMind Forum.