MILO's Going to Guangzhou: 2010 Asian Games Promise Top Weightlifting
For the third time, MILO: A Journal For Serious Strength Athletes will be covering weightlifting at the Asian Games, the world's largest multi-sport event after the Olympics, and every expectation is that the 2010 Guangzhou Asian Games will produce some sensational lifting.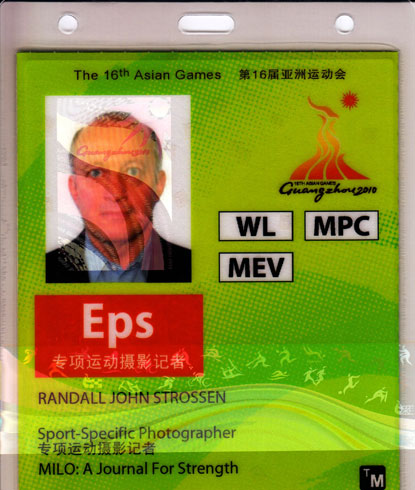 IronMind's Randall Strossen will be covering weightlifting at the upcoming Asian Games—watch for photos and competition highlights beginning November 13. Image courtesy of IronMind®.


Set in Guangzhou, China (host of the 1995 World Weightlifting Championships), the 2010 Asian Games provide a perfect platform for showcasing the powerhouse Chinese Weightlifting Association. And let's not forget about Korea, Iran, Kazakhstan and North Korea—to name a few of the top teams in the sport of weightlifting, all of whom will be participating in the upcoming Asian Games. The Asian Games are held every four years, at the midpoint in the summer Olympics cycle.

Watch for daily reports on the weightlifting competition in the IronMind News column as well as on the IronMind Twitter page: the weightlifting competition runs November 13–19.
###

Want to talk strength? Join the IronMind Forum!

You can also follow IronMind on Twitter.