"Ivan Chakarov, of course, is the star of our 'No-no-no' squat photo and has been a favorite of ours from the time he strolled into the post-competition press conference at the '90 Worlds in Budapest looking like a Bulgarian James Dean," wrote Randall Strossen in the January 1994 (Volume 1 - Number 4) issue of MILO®.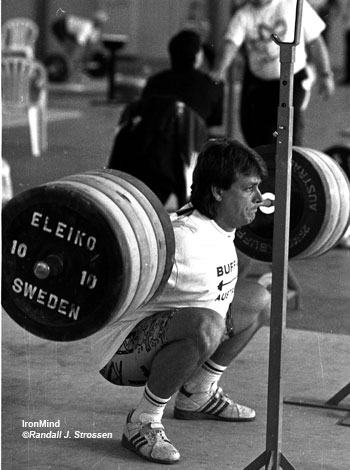 No belt, wraps or spotters - Ivan Chakarov triples 270 kg in the training hall at the 1993 World Weightlifting Championships (Melbourne, Australia). IronMind® | Randall J. Strossen, Ph.D. photo.
Chakarov made a MILO® cover when he won the 1993 World Weightlifting Championships, but his most widespread and enduring impact on the strength world no doubt arose from his "No-no-no" squats in the training hall: It was a couple of days before he would compete and at the end of his workout, the 91-kg weightlifter did a triple in the back squat with 270 kg - of course, it was high bar, close stance and rock bottom, but because it was also done without a belt, wraps or spotters, we dubbed the style a "no-no-no" squat.

When he later watched the performance on video, powerlifting scribe Marty Gallagher was awestruck and would say that Chakarov, instead of looking like some mega-muscle puppy, looked like a guy who wandered into the weight room after playing pickup basketball, and powerlifting coach Louie Simmons would say that just by looking at Chakarov, he could tell that Chakarov didn't know how to squat right - because his quads were too big.

Whatever one's interpretation, the lifting world would never again be the same and when you knocked off big squats in "no-no-no" style, the reaction from the strength world was a resounding yes-yes-yes.

For more on Ivan Chakarov, check MILO® and as 2007 opens, let thoughts of this performances fuel some big PRs in your own training.