Maybe you didn't have a chance to Apti Aukhadov in person at the European Weightlifting Championships, or Mike Burke bulldozing the grip competition landscape at the LA FitExpo, but that's ok—MILO was there and we've got all that plus a lot of other bases covered in Vol. 21, No. 2 (June 2013).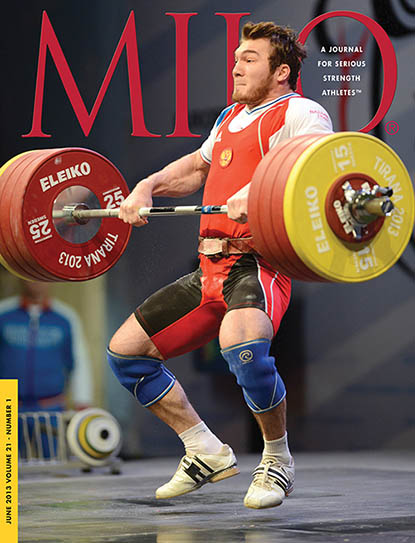 If 2012 Olympic silver medalist Apti Aukhadov (Russia) hasn't already hit your radar, his performance in Tirana, Albania should make it clear that he's the man to beat in the 85-kg category. Shown pulling himself under his 210-kg second attempt clean and jerk, Aukhadov went six for six, won the Best Lifter award, and signaled that he's capable of breaking the world record in the clean and jerk whenever he feels like it. IronMind® | Randall J. Strossen photo.


How about a story on Christian Cantwell, coverage of mas wrestling and the pole push as Odd Haugen serves up competition in what he calls strongman combat, along with piles of meaty training articles and all the regular features such as introducing the latest Captains of Crush gripper and Red Nail certification. Talk about a feast for serious strength athletes—here's the table of contents.

MILO: A Journal For Serious Strength Athletes—available by single issue or subscription from the IronMind e-store.



###

The IronMind Forum: discuss this article, talk strength, get help with your training.

You can also follow IronMind on Twitter.