MILO 20.4 is Here: Let's Rock!
You could call it our World's Strongest Man issue of MILO, but along with WSM 2013, we've got stories on Warren Tetting, Adam Nelson . . . more on the Dinnie Stones . . . new Captains of Crush gripper certifications . . . Dr. Ken . . .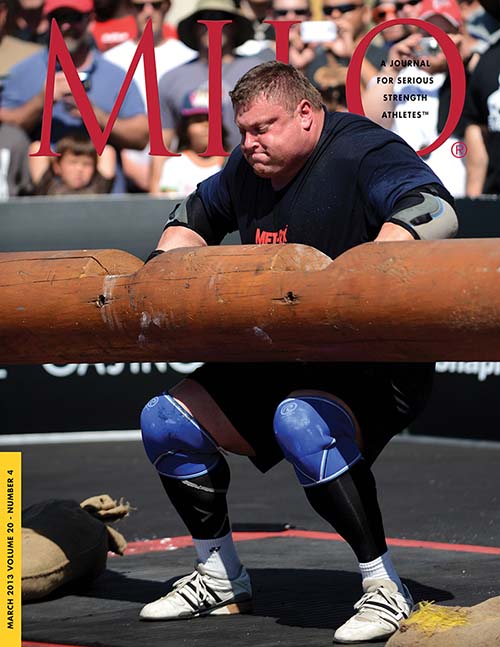 Cover caption (MILO 20.4, March 2013): After getting off to a poor start on the first event of the finals (the Yoke Race), Zydrunas Savickas needed to bounce back with the sort of strong performance that would signal his readiness to walk away with his third World's Strongest Man contest. Usually placid and Buddha-like in appearance, Savickas showed some teeth on the Log Lift, where he capped off his first-place finish with a world record 220-kg log. Randall J. Strossen photo.


And how about Doc Rock on the core, Jim Schmitz talking about Olympic style weightlifting and CrossFit? Think deep sets are the way to go for training on grippers? Ponder what Brian Jones reports on the relationship between deep squats and the development of power.

All this and much more in the MILO package: world class coverage of the strength world, available by single issue or subscription.

### 



The IronMind Forum: discuss this article, talk strength, get help with your training.

You can also follow IronMind on Twitter.