MHP Strongman Champions League at FIBO
This coming weekend, the MHP Strongman Champions League will be at FIBO—the world's largest fitness industry expo—with competitors including the freshly crowned 2014 World's Strongest Man winner, Zydrunas Savickas, and the 2013 SCL world champion, Krzysztof Radzikowski.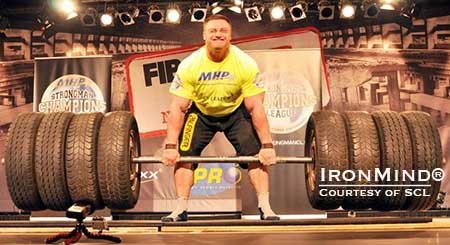 Krzysztof Radzikowski deadlifting at the 2013 FIBO. IronMind® | Photo courtesy of SCL


The strongman contest will include "14 athletes in total and all will be trying to get the yellow MHP Leader shirt back from Ervin Katona's shoulders," Marcel Mostert told IronMind today. "The whole competition will be recorded and broadcast in 89 countries worldwide."

Here is the official start list:

Zydrunas Savickas—Lithuania
Ervin Katona—Serbia
Krzyzstof Radzikowski—Poland
Alex Moonen—Holland
Martin Wildauer—Austria
Eddie Hall—England
Akos Nagy—Hungary
Matjatz Belsak—Slovenia
Jonathan Kelly—Ireland
Daniel Wildt—Germany
Michael Blumstein—Germany
Meik Koskowski—Germany
Marcos Ferrari—Brazil
Fuad Hsaini—Morroco


And the events:

Yoke Race: 400 kg
Log Lift: for max weight.
Frame Walk for distance: 300 Kg
Forward Hold
Stones: 140-180 kg
Apollon's Wheel deadlift for reps: 350 kg

"The competition starts on Saturday April 5 at 10:30 a.m. and the last event, the Deadlift, will be on the main stage," said Mostert.

Please follow this link for more information about FIBO Power and the MHP Strongman Champions League.

###

Want to talk strength? Join the IronMind Forum.

You can also follow IronMind on Twitter and on Facebook.