MHP Strongman Champions League: Worlds, Grand Finale in Malaysia
"The MHP Strongman Champions League has come to its last stage of the 2013 season, stage 16 in Malaysia," Marcel Mostert told IronMind today.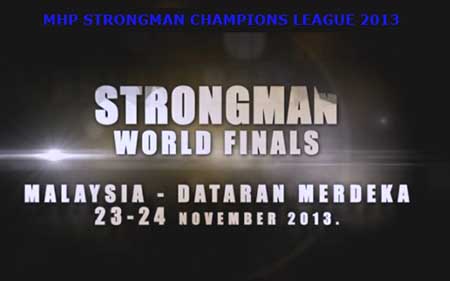 MHP Strongman Champions League is the dominant tour on the international professional strongman circuit, and on November 23–24, the 2013 season concludes in Kuala Lumpur with the crowning of the MHP SCL Malaysia champion as well as the MHP SCL World Champion for 2013. IronMind® | Image courtesy of SCL



"The Top 10 athletes by ranking will be there to fight for the last title, SCL Malaysia, this year, and for the World Championship title as well.

"It has been an amazing year for us: We have done 15 competitions all over the world to end finally here at Malaysia for the 'Grande Finale.'

"An extra check of $15,000 (USD) will be given to the world champion, sponsored by MHP.

"Right in the heart of Kuala Lumpur, the following 12 athletes will be there:

Zydrunas Savickas (Lithuania)
Kzysztof Radzikowski (Poland)
Ervin Katona (Serbia)
Mike Burke (USA)
Dainis Zageris (Latvia)
Hafthor Bjornsson (Iceland)
Lauri Nami (Estonia)
Alex Moonen (Holland)
Bjorn Solvang (Norway)
Chenyang Shi (China)
Ahmad Muhammad (Singapore)
Zarol Alfiyan (Malaysia)

The ultimate final will be done over eight events:

• Truck Pull (harnass and rope)
• Farmer's Walk
• Log Lift (reps)
• Forward Hold (time)
• Tire flip
• Car Deadlift (reps)
• Loading
• Bus Pull (hand over hand)

"Who will be the new SCL World Champion 2013, in the MHP Strongman Champions League 6th season?
Come and see this at 23 and 24 November, at Dataran Merdeka, Kuala Lumpur, Malaysia," said Mostert.

For more details, follow this link to the trailer announcing this event.




 ###



Want to talk strength? Join the IronMind Forum.

You can also follow IronMind on Twitter and on Facebook.