MHP Strongman Champions League Poland
"Already the 12th stage from the MHP Strongman Champions League is starting this weekend in Kartuzy, Poland," Marcel Mostert told IronMind today.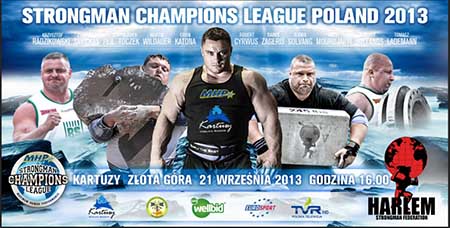 MHP Strongman Champions League will be in Kartuzy, Poland this weekend, so if can be there on Saturday at 16.00 (4:00 pm), you will have a chance to see some of the world's top strongman competitors live and up close. IronMind® | Image courtesy of SCL


"With 12 competitors starting—including Zydrunas Savickas, Ervin Katona, Terry Hollands, Dainis Zageris and of course Krzysztof Radzikowski—it promises to be a hard fight again in our next edition of SCL.

"The complete show will be televised and broadcast on Eurosport, the Polish channel TVR and seen in 89 countries," Mostert said, as SCL continues to build it worldwide television platform.


Events
• Truck Pull: hand over hand
• Viking Press
• Forward Hold
• Atlas Stones
• Keg Toss
• Deadlift: for reps



"The organisation is done together with the Polish federation, which be seen at www.strongmanharlem.pl."

#

Want to talk strength? Join the IronMind Forum.

You can also follow IronMind on Twitter and on Facebook.