MHP Strongman Champions League Latvia on Saturday
"The 4th stage of the MHP Strongman Champions League will arrive this Saturday in Latvia," Marcel Mostert reported to IronMind.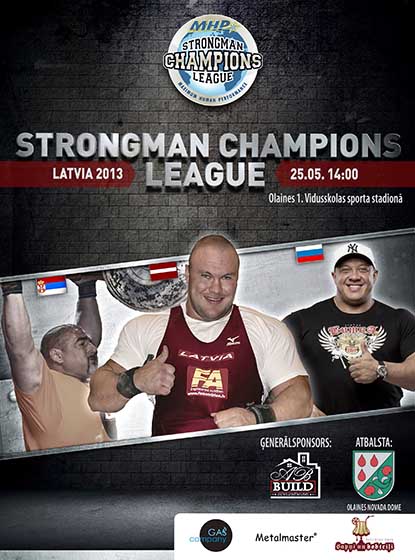 MHP Strongman Champions League Latvia is this weekend—Latvia is where SCL held its first contest, in 2008. IronMind® | Photo courtesy of MHP Strongman Champions League.


"It will be a spectacular competition and its good to be back in Latvia, the country were the first SCL stage ever started in 2008.

"The number 2, 3, 6, 7, 8, 9 and 10 of the SCL ranking so far in the 2013 series will be present in this competition. Kryzsztof Radzikowski, the current number one from the ranking couldn't be here as he has the Polish Nationals this weekend, but will he be in the next stages.

"It will be a hard fight again for the title, prize money and SCL ranking points," said Mostert.
The competition will start at 2 pm.

Competitors
1. Johannes Arsjo (Sweden)
2. Hafthor Julius Bjornsson (Iceland)
3. Tomi Lotta (Finland)
4. Misha Koklyaev (Russia)
5. Rob Frampton (England)
6. Martin Wildauer (Austria)
7. Ervin Katona (Serbia)
8. Jan Wagenaar (Holland)
9. Meelis Peilis (Estonia)
10. Saulius Brusokas (Lithuania)
11. Dainis Zageris (Latvia)
12. Agris Kazelniks (Latvia)
13. Mareks Leitis (Latvia)
14. Didzis Zarins (Latvia)

Events
• Power Team Forward Hold: 12.5 kg
• MHP Viking Press: 165 kg
• Keg Toss: 18, 20, 22, 24, 26, 28 kg
• Power Stairs: 225, 250, 275 kg
• Giant Circle: 360 kg
• Dead Lift for Maximum: starting weight 360 kg

A promo from the SCL Latvia can be found at the SCL website on this link.

###



Visit the IronMind Forum: talk strength, discuss this story. Strongman, grip, Highland Games, Olympic lifting, stones and more.

You can also follow IronMind on Twitter.