MHP Strongman Champions League Holland
"This weekend, on 28 June, the MHP Strongman Champions League Holland will be in the very nice city Doetinchem, in east of Holland," SCL Director Marcel Mostert told IronMind.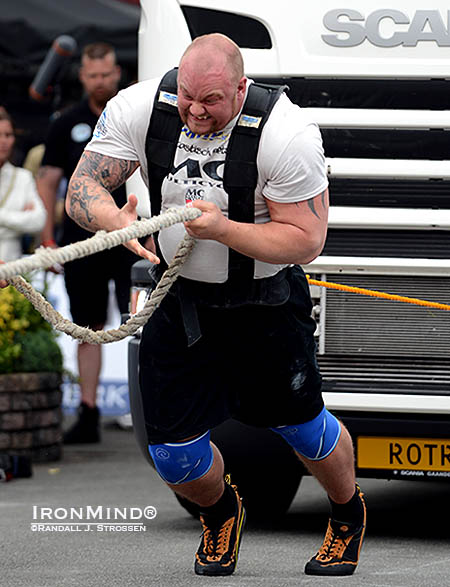 Hafthor Bjornsson won the Truck Pull, the Carry & Drag, as well as setting a world record in the Atlas Stones at SCL Holland last year—losing the overall title Zydrunas Savickas by only one point. Expect fireworks from the Icelander this weekend. IronMind® | Randall J. Strossen photo


"THOR the Icelander will go for his third win in a row he told me. Only Zydrunas Savickas has done this, wining 3 SCL shows in a row.
"The competition will start at 13.00 o'clock and entrance will be free of charge. Also, we will see the new talent from Holland , Niels Gordijn, who is already called the new Thor of Holland.

The following athletes will be there:

1. ERVIN KATONA—Serbia
2. THOR BJÖRNSSON—Iceland
3. GRZEGORZ SZYMANSKI—Poland
4. LAURI NAMI—Estonia
5. DAINIS ZAGERIS—Latvia
6. KEVIN LARSEN—Norway
7. MARIUS LALAS—Lithuania
8. MICHAEL BLUMSTEIN—Germany
9 MIKKEL LEICHT—Denmark
10. JARNO HAMS—Holland
11. MARTIN WILDAUER—Austria
12. ALEX MOONEN—Holland
13. NIELS GORDIJN—Holland

EVENTS:

1- TRUCK PULL
2- LOG LIFT REPS
3- YOKE RACE
4- LOADING
5- WHEEL FLIP
6- ATLAS STONES

"It will be an exciting event again in the MHP Strongman Champions League, the 5th stage: SCL HOLLAND.

SCL leader Ervin Katona can lose his leader shirt here to THOR, so maybe we will get a new leader as well. Stay tuned," said Mostert

###



Want to talk strength? Join the IronMind Forum.

You can also follow IronMind on Twitter and on Facebook.