MHP SCL Hungary: Radzikowski on a Roll
Picking up where he left off, Krzysztof Radzikowski won the 10th stage of the Strongman Champions League in Hungary this weekend, and Aryn Lockhart called the action for IronMind.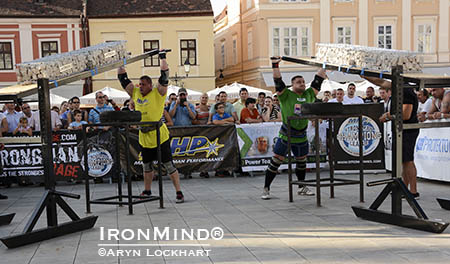 Martin Wildaur (left) and Krzystof Radzikowski (right) go head to head in the final event, 160kg Viking Press, to decide the SCL Hungary winner. IronMind® | Aryn Lockart photo



Krzysztof Radzikowski wins MHP Strongman Champions League Hungary 2014
by Aryn Lockhart/Strongman Rage


Last weekend, with picture perfect weather, the tenth stage of the MHP Strongman Champions League took place in Győr, Hungary. Events took place in three of the best known locations throughout the city. Krzysztof Radzikowski won with a five point lead ahead of Ervin Katona. This is Radzikowski's second consecutive win after he also won in Poland on 3 August. Events included the car deadlift, bus pull, frame carry, front hold and viking press.

Razikowski is looking and feeling fit as he focuses all of his efforts on making up ground after his tricep surgery back in May. I sat with Radzikowski who told me he feels strong and fit. His doctor said he would be able to start light training in September. "When he told me I could start training light by September, I told him, it must be sooner. I began training and in less than three months, I am winning," said Radzikowski. "My doctor was shocked when I told him I won in Poland and now wants to write about my recovery," he continued.

Radzikowski is focused on competing to keep his body fit. "Instead trying to do as many reps as I can all of the time, like I used to, I'm thinking more strategic." He went on to explain the events were good for him helping him take the win.

The day began at Eto Park with the car deadlift and bus pull. Martin Wildauer and Radzikowski were the first to start with the car deadlift. It is often a disadvantage for starters as the competition now has a number to beat. In the end it was Dainis Zageris who won the event with 17 reps, but Wildauer still managed a solid second with 16 reps.

The next event was the bus pull. Pulling a full tour bus weighing 12 tons with only a harness, the slightest incline on the course would make the pull nearly impossible. After making logistical adjustments, the bus was ready to go. Radzikowski won this very heavy event in 24.41 seconds.

Once events were completed at Eto park, it was off to city hall. The frame carry took place in front of the impressive city hall of Győr. With the 300kg frame, Martin Wildauer took the win in 14.91 seconds for over 30 meters with a turn.

After one event here, it was off again to the third and final location in the city center. The front hold and viking press occurred here. The front hold was 30 kg and Ervin Katona won this event with 45.57 seconds. His is notorious for dominating in the front hold.

The final event was the viking press with 160kg. Belšak and Katona were the winners of this event with 16 reps each. Belšak has made an impressive showing in every champions league where he has competed. He is making waves and took an impressive third for the day, his best performance so far in the MHP Strongman Champions League. He placed 5th in SCL Germany and 4th in SCL Croatia. His first podium placement is complete.

The SCL Leader, Martin Wildauer, finished the day in fourth, but still managed to keep the leader shirt with an 11 point lead over Ervin Katona. "I was a bit disappointed today, but I'm glad that I am still able to keep the leader shirt." Wildauer continued with a smile, "I plan to keep this shirt so if Ervin or Krzysztof want it, they need to be ready to fight for it."

Final results:

1. Krzysztof Radzikowski 51p
2. Katona Ervin 46.5p
3. Matjaž Belšak 44p
4. Martin Wildauer 41.55p
5. Dainis Zageris 40p
6. Saulius Brusokas 39p
7. Nagy Ákos 28.5p
8. Gábor Hrozik 27.5p…
9. Jiri Vitezka 22, 5p
10. Jarno Kusela 17.5p
11. Lauri Nami 17.5p
12. Marcos Ferrari 11.5p

To see the latest images from Hungary click here:

https://www.facebook.com/media/set/?set=a.710907102289717.1073741852.629648870415541&type=1

###



Want to talk strength? Join the IronMind Forum.

You can also follow IronMind on Twitter and on Facebook.