MET-Rx World's Strongest Man: First Day of the Qualifiers . . . Dave Ostlund Rips Through the Loading Race and Travis Ortmayer is Overwhelming in the Keg Toss
Some people are already calling it the most competitive World's Strongest Man contest ever - brimming with talent from across the strongman world.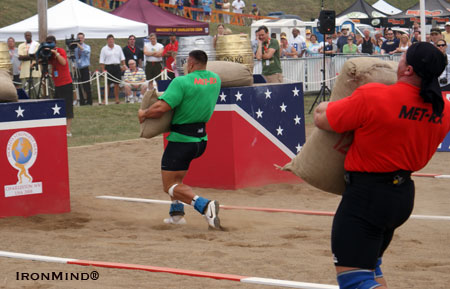 Arild Haugen put Mariusz Pudzianowski in his rearview mirror during this morning's loading race at the 2008 MET-Rx World's Strongest Man contest. IronMind®


Today, after much speculation about who would do what, the rubber hit the road as the five qualifying groups tested mettle of the 30 competitors vying for the biggest title in professional strongman. All five groups had a loading race this morning and three of the groups also had the keg toss this afternoon.

In group one, Mark Felix won the loading race, followed by Derek Poundstone. Phil Pfister won the loading race in group two, with Richard Skog coming in second. Group three was won by Janne Virtanen and Tarmo Mitt was second. Arild Haugen beat Mariusz Pudzianowski for the top position in group four. Dave Ostlund won group five and posted the fastest time of the day in the loading race, with Magnus Samuelsson taking second in this group.

Three groups did the keg toss as well today.

Johannes Arsjo won in group two, followed by Phil Pfister. In group three, Tarmo Mitt was first, with Kevin Nee second. Travis Ortmayer was the victor in group four, with Jimmy Marku second. Ortmayer was not content to merely win, as he turned in what one insider said might be the performance of the 2008 World's Strongest Man contest, boosting his stock in the early rounds of picking favorites for this year's title.

Mariusz Pudzianowski, going for his fifth World's Strongest Man title, was limping today, not a good sign for the man who has been putting off knee surgery in an effort to be at his best for this year's WSM competition.