MET-Rx All-American Strongman Challenge: Event Details
Not departing from his signature style, Odd Haugen's choice of events for the MET-Rx All-American Strongman Challenge can be described with one five-letter word: h-e-a-v-y.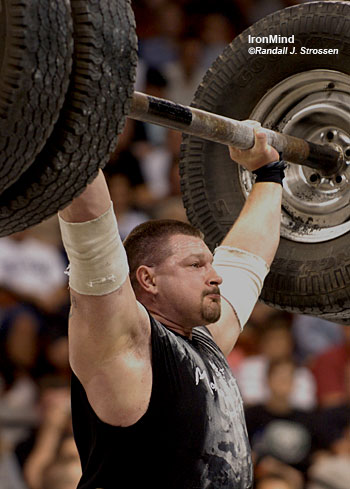 Karl Gillingham gives the Apollon's Axle some air time at the 2006 WSMSS Mohegan Sun Grand Prix - see Karl and other top American strongmen pit themselves against this and other heavy challenges at the FitExpo, in Pasadena, February 16 - 18. IronMind® | Randall J. Strossen, Ph.D. photo.

The action begins when the FitExpo opens its doors a week from Friday (February 16), and the first event is a farmer's walk: 335 pounds/152 kg per hand for 40 meters with one turn, with multiple drops permitted. Keep those legs moving, because next up is a 400-kg/880-pound yoke, on a 20-meter course, and to finish things off on Friday, a strongman classic: a truck pull with a harness and rope.

On Saturday, all the competitors will have a chance to compete on the main stage, as they attack a 400-pound, 10-1/2-inch log, which they will press for reps, before the field is cut to the top twelve.

Another strongman classic, stone loading, is next, but with six stones, the heaviest of which is 205 kg, things will definitely be out of the ordinary. The platform heights range from 66 inches down to 50 inches and the stones must be loaded in order, beginning with the 140-kg stone and working up to the big one. Saturday finishes off with a deadlift medley, which can be done in any order: 600-pound giant fishing pole, 300-kg Apollon's Axle deadlift, 705-pound regular (powerlifting) deadlift and 805-pound side handle deadlift, with the handles nine inches off the ground.

Medley madness continues on Sunday, with a heavy mix of overhead challenges: a 330-pound, 12-inch diameter, 9-foot long log; the Circus dumbbell (with its three-inch diameter handle) loaded to 180 pounds; a 300-pound field stone; a 353-pound Apollon's Axle. And, wrapping things up, a carrying medley comprises a 160-kg suitcase-style farmer's walk, a 175-kg cylinder-style farmer's walk, and a 900-pound frame carry.

For full details, please check the FitExpo's official website.

The top six competitors from this contest will be invited to a World's Strongest Man Super Series contest, which is the gateway to qualifying for the 2007 MET-Rx World's Strongest Man contest.