Lyu Xiaojun Wins With Back Against the Wall
Incheon, South Korea—It was expected to be a cakewalk for Lyu Xiaojun (China) in the 77-kg category of weightlifting at the Asian Games, but that's not how things turned out.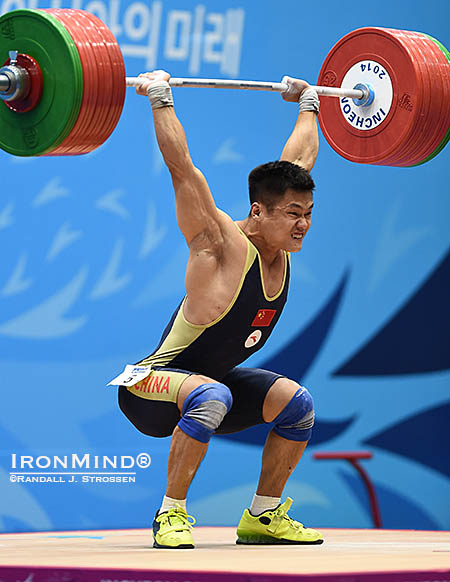 Gold medal lift: after missing the jerk twice with 200 kg, Lyu Xiaojun showed his grit by making a good lift with the weight on his third attempt. IronMind® | Randall J. Strossen photo


Lyu's opening snatch, 165 kg, looked like a warmup for the superstar, and so did 170 kg on his second attempt. Lyu called for 175 kg on his third attempt, just one kilo below his world record, and made the lift with such command that if he another attempt and called for 180 kg, it might not have been smart to bet against him making it.

In the clean and jerk, Lyu opened with 200 kg and cleaned as if he were an express elevator. He punched up the jerk, squatted for what looked like an easy attempt, but then he lost the jerk as he was starting to recover—a big surprise, to say the least, and when his second attempt was a repeat of this pattern, the crowd gasped.

Visibly concerned, Lyu came out for his third attempt, gave his usual quick bow to the audience before walking onto the platform, and it was apparent that he was going to micromanage the attempt: another strong clean, the squat jerk, the bar overhead for the third time, staying in the squat once again before starting up. Grimacing as he recovered, there was a sense that Lyu was willing the bar to stay fixed, and he did.

He looked like a champion in the snatch and by coming through under extreme pressure in the clean and jerk, Lyu Xiaojun proved that he was.

Not to be overlooked, Kim Kwangsong (North Korea), who had snatched 168 kg, called for 207 kg on his third attempt in the clean and jerk, in a bid to overtake Lyu: he racked the weight, struggled to recover and then dumped the bar after he managed to stand up.

###



Visit the IronMind Forum: talk strength, discuss this story. Strongman, grip, Highland Games, Olympic lifting, stones and more.

You can also follow IronMind on Twitter and on Facebook.