Luke Reynolds Wins the Southern Highlander
We had a great event this past weekend as part of our Australian Highlander tour and the formation of the second stage of our Australian Stone tour," Bill Lyndon reported to IronMind®.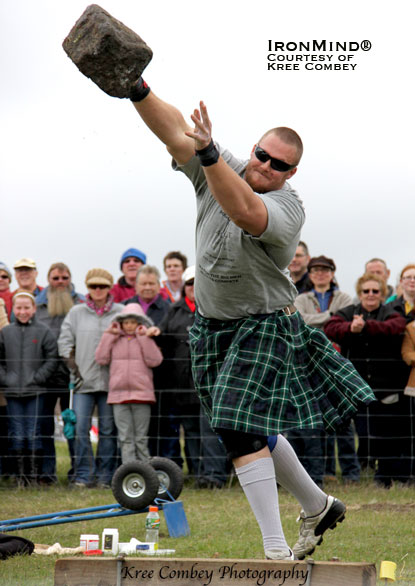 Luke Reynolds on the two-handed 70-lb. stone putt. IronMind® | Photo courtesy of Kree Combey Photography.

"The Southern Highlander was held this past weekend in the Southern Highlands of Australia with some of the best heavies in Australia in attendance. Under extreme rainy and cold conditions in fine Scottish style, a +1,000 strong crowd enjoyed a fantastic display of strength athletics," Lyndon said.

The events were stones, stones and more stones:

• 70-lb. two-handed putt
• 56-lb. weight for height
• 18' 140-lb. caber
• Manhood stones over a cross bar
• Binks stone carry (Dinnie-style)

"It was a very hard-fought event with some great displays of skill and strength, coming down to the last event with half a point separating Aaron Monks and Luke Reynolds with Luke needing a monumental effort to take the win and take ownership of the champion's sword.

"Luke took the win in the final event, the Binks stone carry, with a distance of 40' 9", Lyndon said.

Here are the top five overall, officially:

1. Luke Reynolds
2. Craig Reid, Aaron Monks (tie)
4. Eben Le Roux
5. Morgan Westmoreland

"The Highlander-style events are proving very popular in Australia. With our Scottish and Irish heritage being a very strong factor in the interest in booking many more of these styles of events, the F.A.S.C. is having a very busy year with several more high profile events scheduled for this coming summer season," Lyndon told IronMind®.


Want to talk strength? Join the IronMind® Forum!

You can also follow IronMind® on Twitter.