Lu Xiaojun Wins the 77s at the World Weightlifting Championships
Paris–The Armenian delegation was set for a big celebration, but things did not go according to plan in a class loaded with talent: the defending world champion, the current Olympic gold medalist, and the man who holds two of the three senior world records were all in the field for the men's 77-kg category at the World Weightlifting Championships.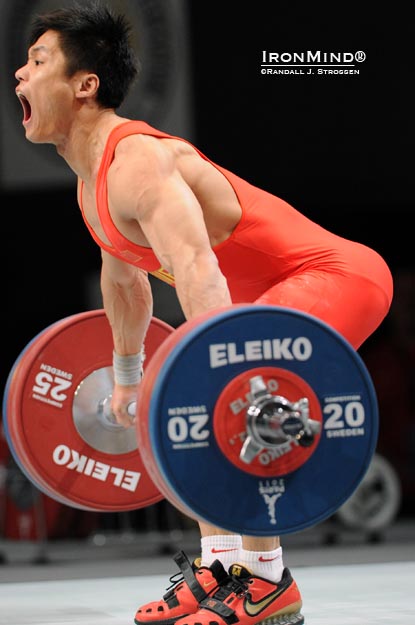 Lu Xiaojun flexed his muscles early, as he won the snatch with 170 kg in the men's 77-kg category at the 2011 World Weightlifting Championships. IronMind® | Randall J. Strossen photo.


Tigran Martirosyan (Armenia) hit 160 and 165 kg in the snatch, before missing 168, as Chinese teammates Lu Xiaojun and Su Dajin forged ahead: Su ended with 166, nipping Martirosyan on body weight, and Lu pocketed the gold medal with his 170-kg success.

The clean and jerk ended with three different lifters taking 211 kg in an effort to break the world record: first out was Lu, who flashed a squat jerk that looked good . . . until the bar came crashing down. Next was Sa Jaehyouk (Korea), a splitter, who also missed the jerk. Rounding things out, Su missed the clean, but as a consolation prize, his 206-kg second attempt left him with the gold medal in the jerk.

Lu's 375-kg total earned him the gold medal, Su got the silver with 372 and Sa, well back on 360, was the bronze medalist—the heady performances at the top of this class make a 380-kg total seem very possible in London next year.

###



Visit the IronMind Forum: talk strength, discuss this story. Strongman, grip, Highland Games, Olympic lifting, stones and more.

You can also follow IronMind on Twitter.